Rees-Mogg's new security force? Britain First to defend Brexiteer against 'Antifa idiots' (VIDEO)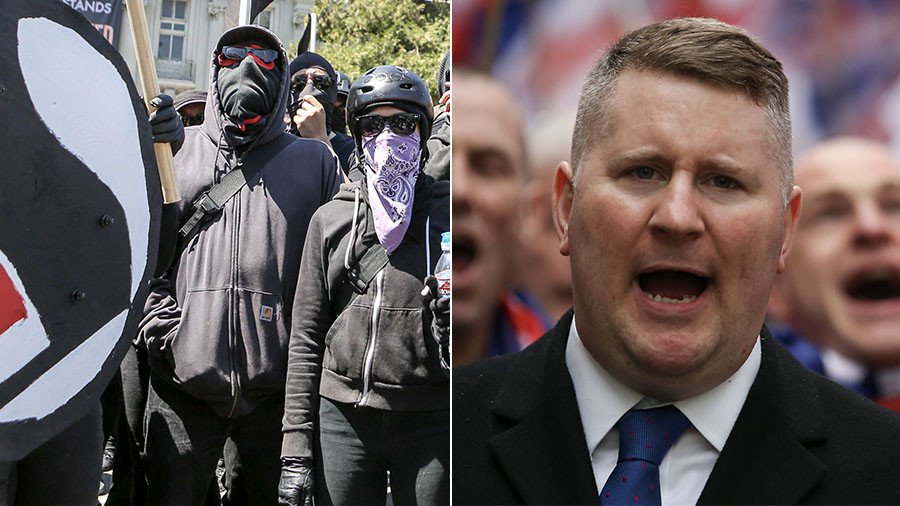 Britain First leader Paul Golding has issued a bizarre warning to anti-fascists after a protest at Tory MP Jacob Rees-Mogg's Bristol university visit which turned violent. Golding vowing 'we will find you, and we will get you.'
The Conservative MP became embroiled in a fracas at the University of the West (UWE) in Bristol last week. Rees-Mogg, a high-profile Brexiteer on the hard-right of the Tory party, was heckled by protesters from the Bristol Antifascists rallying against his talk at the Frenchay campus.
The situation then became more heated, with a video from inside the university showing the Conservative MP seemingly trying to break up a fight between attendees and protesters.
The video has since gone viral, catching the eye of Golding and inspiring the Britain First leader to make a quick video of his own.
"I'm sure everyone has seen the video of a group of masked communist Antifa idiots storming a meeting that was due to be addressed by Jacob Rees-Mogg.
"We've had run-ins with Antifa before and they're a law unto themselves. They engage in violence.
"They believe that they're fighting fascism by acting like nasty little fascists themselves.
"They're general communist thugs who harass and attack anyone on the right of politics."
Golding delivers his rant from the driving seat of a car, which — were he in control of the vehicle — would be a violation of UK laws relating to the use of mobile devices while driving. In the two minute YouTube rant, Golding details a Britain First showdown with Antifa, finishing with a stark warning for the anti-fascist protesters.
"A group of these types invaded a country pub down in Kent and harrased Nigel Farage while he was having lunch with his family," Golding said.
"The following week we tracked down one of their meetings in central London and stormed it.
"These people — who were quite brave enough to confront Nigel Farage when he was on his own, out with his family and enjoying a peaceful Sunday meal — they all locked themselves in a room, panicked, and called the police.
"So my message to Antifa is this: If you keep harrassing people like Jacob Rees-Mogg then you will get the Britain First cannons [sic] turned on you.
"We will find out where you live. We will find out where you work. We will find out where you study — and we will come down on you like a ton of bricks."
Following the incident the Bristol Antifascists took responsibility for the protest.
"UWE, a university that takes pride in its inclusivity-of-LGBT stance, decided to allow a speech from Jacob Rees-Mogg to take place; a person [whose] homophobic and anti-abortion beliefs are well known and documented.
"Furthermore, not only has he down-voted bills that would help poor people and is in favour of privatizing the welfare state he has been also documented to hang out at parties set up by the Traditional Britain group, an Islamophobic, anti-immigrant group.
"Following all of these as anti-fascists, feminists and people who partake in the class struggle we felt that it was appropriate to disrupt his speech.
"We barged in, started chanting, and within a matter of minutes a member of the audience became aggressive towards us and then hit an audience member in the face! More people joined in, trying to kick us out, pushing and shouting at us.
"We felt that we had disrupted the meeting enough, turned around and left as the fascists tried to gather their pieces.
"Our disruption was a complete success but we still feel appalled on [sic] how a university which recently launched an anti-Islamophobia campaign and is voted one of the friendly LGBT universities allowed such a figure to spout out his vitriol.
"We are the raindrops of a storm that is brewing. No Parasan."
Think your friends would be interested? Share this story!
You can share this story on social media: