Scrap 'barbaric' pre-Victorian powers to detain rough sleepers, homeless campaign group tells RT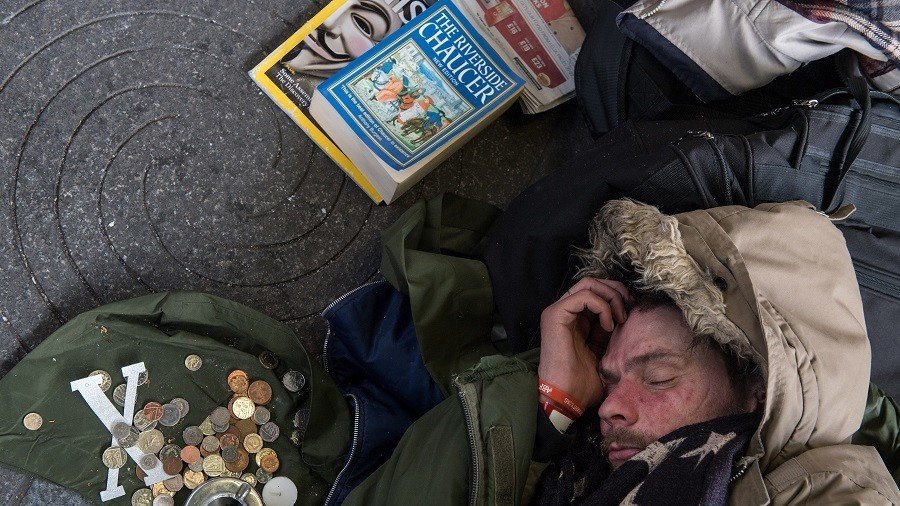 "Dickensian" laws allowing for thousands of homeless and "peaceful" beggars to be removed from the streets and prosecuted should be repealed, an Oxford University campaign group told RT.
On Your Doorstep, a homelessness campaign group part of the university's student union, launched a petition calling for the pre-Victorian Vagrancy Act 1824 to be repealed, as it criminalizes some of the most vulnerable in society.
The Act was scrapped in Scotland and Ireland, though it remains in Britain's statutes and is to this day still enforced.
"It's hard enough being in one of the most vulnerable situations imaginable in this country without them [rough sleepers] feeling like they are being hunted, pushed around and harassed by authorities," Alex Kumar, who launched the petition, told RT.
According to the Act, police are given powers to arrest and detain for up to three months anyone found "lodging in any barn or outhouse, or in any deserted or unoccupied building, or in the open air, or under a tent, or in any cart or waggon, not having any visible means of subsistence."
A Freedom of Information (FOI) request revealed that in England and Wales, between 2016 and '17, there were 1,810 prosecutions under the Act, and as recently as 2015, the number was more than 3,000, the New Statesman reports.
Kumar – whose petition has garnered 14,000 signatures – said the anachronistic law, which faced criticism when it was passed in the 19th century, is just "ridiculous" in modern times. The campaigner added that authorities should acknowledge that homelessness is not a "criminal issue," but a "humanitarian crisis."
MPs from across the political spectrum have previously called for relevant sections of the Act to be repealed, including current Labour leader Jeremy Corbyn and shadow Home Secretary Diane Abbott.
Kumar hit out at the government's failure to appropriately address the issue with what he deems a "barbaric" piece of legislation, saying: "I think they haven't really addressed the Vagrancy Act. If there were an open debate on the Act no real case would be made in favour of repealing it.
"I don't think there is any real argument for keeping it and that is why the government has not engaged in a real debate."
It comes after the Windsor and Maidenhead Tory council leader Simon Dudley sparked widespread outcry after he suggested removing all homeless off the streets for the royal wedding between Prince Harry and American TV star Meghan Markle later in May.
Kamur said the scandal "wasn't just the story of one bad man… cleansing the streets of homeless."
It is in fact the law itself, he claims, that "allows for authorities to move on rough sleepers, harass, arrest and prosecute them."
He said local authorities are "trying to push the problem" of homelessness out of their jurisdiction, and the "endemic" way of doing so is through the removal of rough sleepers.
Kamur said this is "fitting" with Dudley's approach.
By Claire Gilbody-Dickerson, RT
If you like this story, share it with a friend!
You can share this story on social media: