Merkel ridicules May at Davos, adding to long list of EU misery for British PM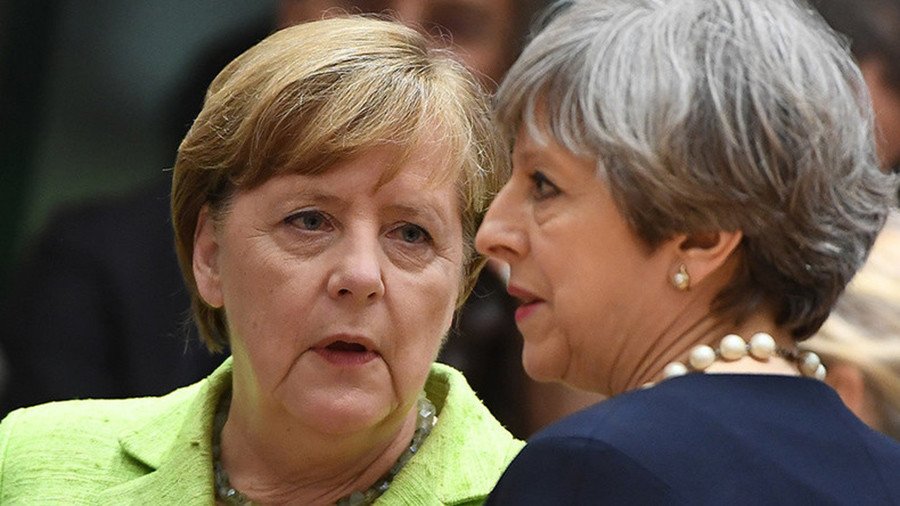 Angela Merkel reportedly left journalists in stitches after she mocked Theresa May's failed attempts to negotiate a Brexit deal. Unfortunately for Britain, however, the PM is no stranger to EU ridicule.
From being shunned by pretty much everyone at an EU reception to a sad Mexican wave fail, RT looks at some of the times May has been left red-faced by her EU counterparts.
Merkel mocks May during secret press briefing
Journalists privy to a press conference with Merkel in Davos last week were left sniggering after the German Chancellor's cheeky anecdote about Brexit discussions with the UK prime minister.
ITV journalist Robert Peston, who attended the media call, said the joke isn't as "funny for the UK" as it clearly is to Europe.
"Merkel said that when she asks Mrs May what she wants the shape of the UK's relationship with the EU to be, Mrs May says 'make me an offer,'" Peston recounted. "And so, according to Mrs Merkel, the two find themselves trapped in a recurring loop of 'what do you want?' and 'make me an offer.'"
According to Peston, "the hacks laughed uproariously."
Not good – especially as rumors swirl that May's weak leadership has her set on a collision course with her own Tory rebels.
Passport color leaves May blue in the face
Only two weeks before the Davos incident, the EU was collectively rolling its eyes at yet another blunder by May. The Tory leader moved to bring back the blue passport for the United Kingdom, promoting the change as a post-Brexit move towards "sovereignty and independence."
German MEP Manfred Weber was having none of it. He called the passport story a "drastic example for the lack of leadership."
"The first problem in this respect is about honesty – the whole story is a scam," he told the Scotsman.
"EU law does not say anything about passport colors. Croatia have navy blue passports for years already, you didn't have to leave the Union for that, so why do you not tell people the truth?"
Again, May's failed negotiation attempts were highlighted.
"The blue passports are the first and the only real thing the British Government has achieved in more than one-and-a-half years of negotiations," he added.
Cold shoulder at EU reception
Then there was that time May was photographed looking lonely in Brussels.
In December 2016, the United Kingdom collectively cringed as photographs and videos emerged of May standing alone, nervously fidgeting in a crowded room of EU officials who all appeared to be ignoring her.
May's Mexican wave fail
May managed the world's most awkward Mexican wave at a France v England football match.
Attending the game at the Stade de France with French President Emmanuel Macron and Home Secretary Amber Rudd, May misses the memo, delivering a slightly delayed 'hands in the air' shuffle. It didn't look cool.
Shunned to the back
In September May was photographed with EU officials in a 'family photo' of the EU block… or was she?
Taken at an informal meeting of European state leaders in Estonia, May was relegated to the back row in the group photograph – where you can hardly see her. Coincidence, or juvenile attempt at humiliation on behalf of the EU?
One can only imagine what jokes are made behind closed doors.
Like this story? Share it with a friend!
You can share this story on social media: