Activists storm 'racist' Winston Churchill-themed cafe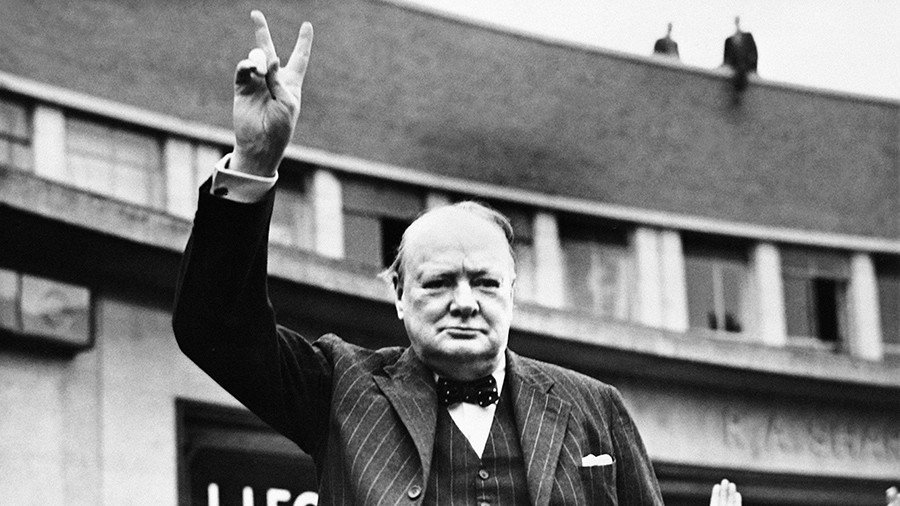 Protesters who stormed a Winston Churchill-themed cafe to chant the wartime leader was a "racist" and demand the eatery apologize to the community have been slammed online as "pathetic" and "snowflakes."
Police were called when nine protesters stormed the Blighty UK cafe in Finsbury Park in London, where customers can drink out of Churchill-adorned mugs and pose beside a replica of the leader. They yelled "Churchill was a racist" in front of dozens of diners.
Armed with scripts and loud voices, one protester can be seen on video declaring: "We cannot accept the unashamed colonial and gentrifying presence of this cafe," before the group chanted: "You will never make colonialism palatable."
Next to pipe up was Halimo Hussein, co-president of Equality and Liberation at SOAS, University of London students' union and a staunch Labour and Jeremy Corbyn supporter.
"To the owner of the cafe, apologize to the local community for their poorly thought and insensitive branding and promptly change it from the menu to the aesthetics and décor of the cafe," she demanded.
Another protester then chimed in: "To the customer, we ask you that you boycott this cafe until they take the concerns of the community seriously."
As a group they chanted "it is our duty to win" and "we must love and support each other." As they filed out, a frustrated customer hit back at the activists, calling after them that: "Churchill fought for our freedom."
The cafe has previously been targeted by vandals, with owner Chris Evans forced to remove a mural of Churchill after it was defaced with graffiti, labelling the World War II leader "scum" and an "imperialist." Angry left-wingers have also been leaving negative reviews for the cafe to put off customers.
Evans, 47, said his staff were shaken up by the demonstration. "I have already invited these people in for coffee to discuss their concerns," he told the Daily Mail.
"Instead, they have come in and shouted at my customers. My staff have been left frightened and so I am reporting the incident to the police today.
"I would much rather they came to debate in a civilized manner what it means to be British in modern Britain. As far as I am concerned, if you cannot celebrate Britain and great Britons you are just erasing history.
"And if you cannot celebrate Churchill, you cannot celebrate anyone."
The cafe in north London claims it is merely trying to celebrate a "true British hero." Blighty UK is the founding cafe of the Blighty Commonwealth of Cafes. It boasts on its website of sourcing its coffee beans from Commonwealth countries Rwanda, Kenya, India, Tanzania, Papua New Guinea and Malawi, as well as other ingredients "wherever possible."
Just been a reluctant part of some form of anti-Churhill protest at @BlightyUKCafe. They had a script and everything. Could have at least bought a coffee.

— Alexander Hamilton (@ADHamilton91) January 27, 2018
The activists have been slammed online, with Twitter users calling them "idiotic" and "losers."
@BlightyUKCafe just read about the idiotic leftists in your premises.Don't let the bell whiffs get you down.They've probably gone back to their shared accommodation, eating pot noodles and listening to crap ambient acid jazz type music whilst smoking something illegal.

— Citizen Kris (@Churchy74Kj) January 29, 2018
@BlightyUKCafe sorry to hear that you are being targeted by a bunch of losers from the hard left. I look forward to visiting you and having coffee and cake. In the words of Churchill "never give in"

— AlexMcCagie (@BlackCaninePal) January 29, 2018
While Churchill has passed into history as a fearless prime minister who vehemently opposed Nazi Germany, he is also blamed for a litany of imperialist policies that led to the deaths of millions and the continued colonial repression of millions more.
Most notably, Churchill is accused of allowing up to 4 million Indians to starve in Bengal when they were struck by famine in 1943. According to Nobel Prize-winning economist Amartya Sen, among others, the famine was triggered by Churchill's decision to transport Bengal-produced grain to British soldiers fighting in Greece, rather to feed the local population.
Churchill rejected calls to supply the starving people, who lived under British rule, saying the population bred "like rabbits" anyway. Churchill also refused any offer of aid to the beleaguered Indians from the US and Canada, leading the then British secretary of state in India to compare him to Hitler.
When Churchill was colonial secretary in the 1920s, he responded to an Iraqi Kurdish rebellion against British rule by saying: "I am strongly in favor of using poisoned gas against uncivilized tribes... [It] would spread a lively terror."
Historians are divided over whether or not gas was actually used to put down the rebellion.
During World War II, Churchill ordered the repression of Greek anti-fascist partisans who had helped kick out Nazi forces. In 1944 British troops massacred some 28 people after turning their guns on those protesting against their occupation.
Later Churchill would say "the [Nazi] collaborators in Greece in many cases did the best they could to shelter the Greek population from German oppression."
You can share this story on social media: