Farage and Trump aren't feminists... and apparently one of them doesn't even know what it means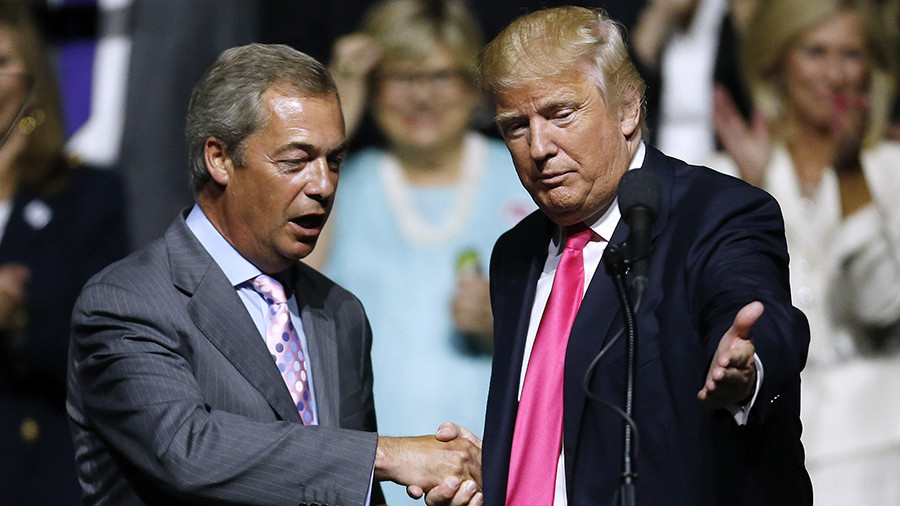 Nigel Farage followed his friend Donald Trump's lead on Monday when he claimed that not only is he not a feminist – he doesn't even know what it means.
Brexit heavyweight Farage, who has been spotted alongside the US president, spoke hours after Trump declared it would be "going too far" to call himself a feminist.
British journalist Piers Morgan interviewed both men and asked them the same questions. Unsurprisingly, the pair – who appear to be on the same page on many issues – came up with the same answer to the question on feminism.
Trump replied that he "would not say" he was a feminist but added: "I'm for women. I'm for men. I'm for everyone. I think people have to go out ... and they have to win." Trump added: "And women are doing great, and I'm happy about that."
Farage, on the other hand, simply claimed cluelessness when he was interviewed by Morgan.
The pair got into an exchange about "what feminism is" on Good Morning Britain, with Farage insisting he does not understand the term.
The heated debate began when Morgan provocatively asked: "Are you a feminist?"
Farage responded by saying that he couldn't be, because he "doesn't understand what it means."
When Morgan's co-presenter Susanna Reid queried this, Farage said she could be a feminist but he could not.
"Really? A man can't be a feminist?" she replied.
Morgan jumped in to express his feelings towards the conversation. "I identify as a feminist," he claimed.
Farage then defended himself, saying: "I would say let everybody be equal and live in a fair society."
Reid replied: "That's exactly what feminism is."
Morgan tweeted afterwards: "BREAKING: Nigel Farage has joined President Trump in declaring: 'I am not a feminist'. He told @GMB : 'I don't know what it means.'"
Many people on Twitter seemed to support Farage and Trump.
One man linked to a study which said only 7 percent of men were in agreement with Morgan. He said: "People are acting like Trump and Farage's open rejection of feminism is a radical belief. Maybe they should check what the general public actually believe."
And Farage himself joined in. He wrote: "I challenge @GMB to conduct a reputable poll of men in this country and ask how many identify as a feminist. I think you'd be shocked by the results."
Like this story? Share it with a friend!
You can share this story on social media: