'Branson bailout' protests erupt as anger grows with East Coast rail (VIDEO)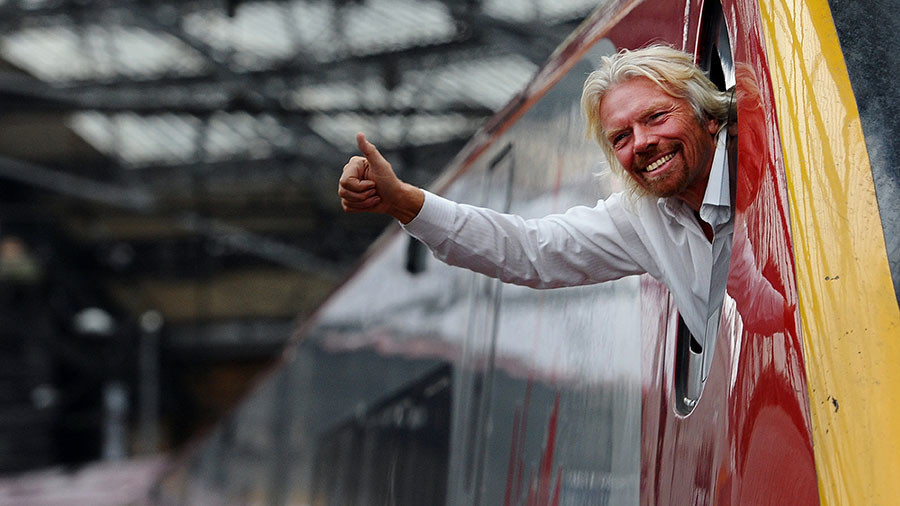 Angry protestors have descended upon London's Kings Cross Station to share their rage over the proposed £2 billion bailout for Virgin Trains East Coast rail service, owned by one of the world's richest men, Richard Branson.
The train service, which is a joint venture between Stagecoach and Branson's Virgin Group, pledged to pay more than £3 billion (US$4.1 billion) to run the rail service until 2023. In November, the rail line announced that the deal will be terminated with the government three years early.
Simultaneous protests kicked off on Thursday morning, with campaigners shaking money tins at commuters in London, Edinburgh, Manchester, Surrey, and Bristol to demonstrate their anger over the botched rail re-privatization.
Public service campaign group 'We Own It' director, Cat Hobbs, spoke to RT at Kings Cross Station, where a team of protesters were causing a ruckus to express their disdain at the proposed £2 billion bailout.
"Privatization has failed again and again," Hobbs said.
"We've seen this week with Carillion that when private companies get things wrong the rest of us have to step in and pick up the pieces.
"We're here today for Branson's Big Bailout. He's already sued our NHS and now he wants effectively a £2 billion bailout because he and Stagecoach have decided to opt out of the East Coast line.
"When it was announced that [Transport Secretary] Chris Grayling was effectively bailing out Virgin and Stagecoach, their shares leapt by 13 percent. Not only are they effectively bailing out, but the government will allow them to bid to run the franchise again.
"Privatization just isn't working and we need to bring public services in-house and to public ownership. Our railways should be owned by all of us.
"Branson and all of the other private companies are failing us. Our message is to the government and Chris Grayling.
"They need to bring the East Coast Line… and then bring the rest of the rail service into public ownership, where it belongs."
In November, Shadow Transport Secretary Andy McDonald the told Commons that the rail strategy announcement was "a total smokescreen."
"The real issue is that the East Coast franchise has failed again and the taxpayer will bail it out," he said.
Pointing out the spike in share prices, he said: "Markets don't lie. The secretary of state has let Stagecoach off the hook for hundreds of millions of pounds. He's tough on everyone except the private sector."
Transport Secretary Grayling responded to his claims, refuting that a bailout would happen at all.
"As we bring this franchise to a close and as we move to the new arrangements, no one is getting any bailout at all," he said. "Stagecoach will meet in full their commitments made to the government as part of this contract."
Like this story? Share it with a friend!
You can share this story on social media: