Tory favors, pensions hole and 'blacklisting' workers - Carillion's slow and ignoble fall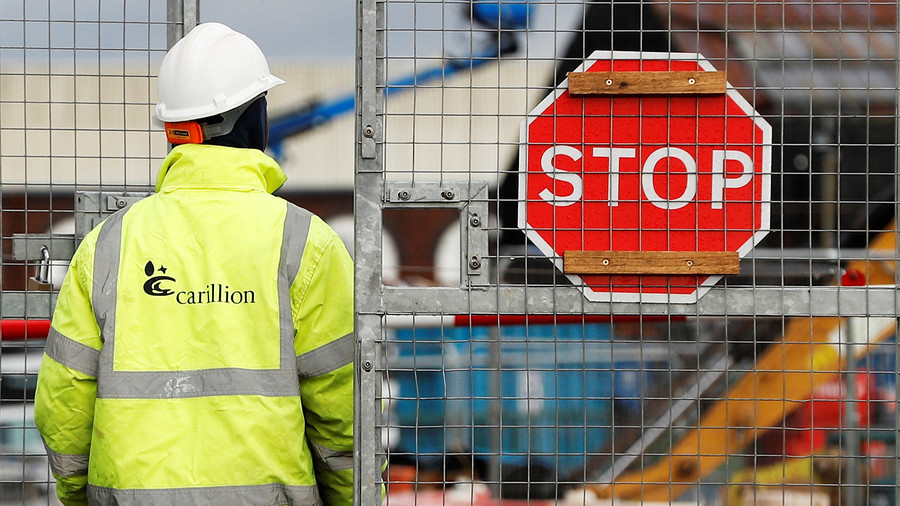 Carillion is going into liquidation after being overwhelmed by huge financial difficulties, throwing the futures of 43,000 employees into turmoil.
Huge government contracts for nearly 900 schools, 50,000 Ministry of Defence homes, and hospitals across the UK are held by the crisis-hit firm saddled with a £1.5 billion ($2.07 billion) debt, sparking a rush to discover which projects could be in jeopardy.
The government, Carillion, and its lenders failed to reach an agreement to save the company, which has around 20,000 employees in the UK and more staff abroad in Canada, the Middle East, and the Caribbean.
Carillion was the UK's second-largest construction company, but ended up being saddled with mounting debts under the control of Chairman Philip Nevill Green.
What went wrong?
It is being argued today that the firm, with a market capitalization of almost £1 billion in 2016, was greedy, taking on too many contracts. The construction giant has been involved in iconic projects like the Anfield Stadium expansion and Battersea Power Station's redevelopment, among others. Currently, it is one of a number of firms with a contract to build part of the forthcoming HS2 high speed railway line.
In 2017, cracks began to show. Late payments in the Middle East rocked accounts and the company issued three profit warnings in five months. Santander UK, HSBC and Barclays became hesitant to give loans, despite offering more time for debt to be repaid in December.
Protecting the people at the top
The company was in trouble in 2016, but that did not stop Carillion changing rules to ensure top brass were paid their bonuses.
Why did the Government think it was right to award £billion contests when #Carillion had issued 3 profit warnings!I expect the Government will issue a statement today, but I doubt they'll issue an apology for the impact their incompetence has had on workers.

— Emma Hardy MP (@EmmaHardyMP) January 15, 2018
Months before the announcement of an accounting crisis that wiped £600 million off its shares, the company amended the regulations to help bosses avoid penalties in "circumstances of corporate failure."
The rewording of the clause in the 2016 annual report said executives would have to be guilty of fraudulent behavior rather than just the more general failure of the firm to lose the cash.
Now, the futures of 20,000 employees in the UK are in doubt.
Conservative friends
The Government has urged Carillion workers to continue going in, and has insisted public contracts will be looked after by the Official Receiver to avoid collapse. Despite ostensibly looking out for Carillion's workers, the Tory party is coming under fire.
Carillion's payouts to shareholders have increased in each of the 16 years since formation of company, boosted by Govt obsession with PFI.Yet today the company collapses, risking 1000s of jobs & threatening people's pensions. That's the neoliberal story, right there.

— Caroline Lucas (@CarolineLucas) January 15, 2018
It has now emerged, days after announcing a profit warning, that the Government handed the struggling firm an HS2 rail contract worth £1.4 billion and a £158 million MoD deal. Carillion issued a second profit warning in September. Weeks later it got a £62 million rail contract.
Questions are being raised over the relationship between Carillion and the Conservatives.
It has now emerged Philip Nevill Green advised former British Prime Minister David Cameron on 'corporate responsibility.' He also urged voters to back Cameron.
In 2014, after signing off on another Carillion contract then-Chancellor George Osborne said: "It is great to see successful companies like Carillion winning contracts around the world. This deal, the first in a pipeline of many, will help us reverse the age-old trend of not exporting enough, boosting growth and creating jobs."
Seemingly forgetting his previous statements and his involve integral role in Carillion's fall, Osborne used his Evening Standard editorial to ask "Why has the state found itself so dependent on a few very large outsourcing firms? The failure to use a variety of smaller, mid-size companies undermines innovation and leaves services hostage when things go wrong."
Along with Osborne, many MPs have accused the government of ignoring "alarm bells."
Lib Dem leader Sir Vince Cable added: "We urgently need a parliamentary inquiry into some of the very questionable decisions made in the past few months – not least the award of public contracts to a company that was clearly in danger of collapse."
Step 1) Nationalise CarillionStep 2) Make it state infrastructure and home builder Step 3) government brings all public contracts back in houseStep 4) use new company to build masses of new infrastructure, retrofit homes and build affordable new ones https://t.co/1N7ghXE8bz

— Aaron Bastani (@AaronBastani) January 15, 2018
Blacklisting workers
Carillion was rocked by scandal in 2015 when it emerged that the firm, as well as others, "blacklisted" union members. About 800 workers deemed troublemakers while raising legitimate workplace issues were unable to get work after being blocked by Carillion, among others.
The blacklist compiled by construction industry monitor Consulting Association is believed to have operated for 30 years.
A year later, in 2016, apologies were issued from companies, including Carillion.
However, the firm faced further embarrassment when it attempted to claw back costs from a blacklisted worker who attempted to have his case heard in the Supreme Court.
Carillion submitted a claim for £3,500 worth of legal costs
600mn pension deficit
Senior Government ministers rushed in to emergency talks last week after it emerged there was a gaping hole in the Carillion pensions fund – to the tune of an estimated £587 million.
2016 Carillion annual report says dividend 'has increased in each of 16 years since formation of company'; Is this really acceptable alongside a pension fund deficit over half a billion pounds?

— Steve Webb (@stevewebb1) January 15, 2018
The Pension Protection Fund (PPF), the Pensions Regulator (TPR), and major portfolio holders in the May government met with Carillion's pension trustees and advisers days ago.
Business Secretary Greg Clark, Transport Minister Jo Johnson, and Justice Minister Rory Stewart were all present, according to reports.
Shares in Carillion plunged over 15 percent last week, before the liquidation announcement.
You can share this story on social media: