Italian passenger racially abused on London tube in shocking footage, police hunting suspect (VIDEO)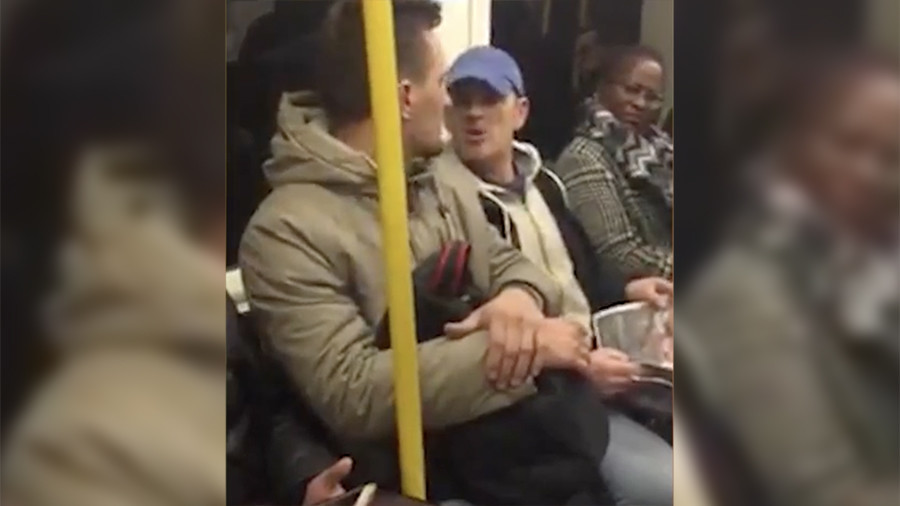 A man on a racist tirade against an Italian commuter was met with disgust by fellow commuters. In a video uploaded to social media to shame the potty-mouthed passenger, fellow travellers can be heard standing up for the victim.
The London Underground passenger launched into a sickening racist rant at an Italian man sitting beside him – but he didn't expect the usually subdued Tube passengers to stand up to him.
While it is not clear what spurred the blue-capped man into spewing such hatred, it appears the presence of a foreigner may have set him off.
"I'm sick of you c***s getting on the f******g train," he can be heard saying in the nearly three-minute video.
When the xenophobic man was challenged about his behavior by his fellow passengers, he became even angrier, despite protests from those around him that "there's children on the train."
"My country, I'll say what I want," he shouted, snapping the newspaper in his hands angrily and squaring up to those around him. One passenger can be seen sympathetically leading away the target of the abuse before the video ends.
Social media exploded once the video went viral, with Twitter users denouncing the foul-mouthed man.
First racist tube passenger of the year collected. 🙃🙃🙃

— Just Adam. 🤷🏻‍♂️ (@AdamPugh) January 17, 2018
*loses all of my friends due to being racist* i am very misunderstood...

— The Tube Dude (@nflstreet4) January 18, 2018
The video, which was shared by self-described human rights group ShameArmy, was uploaded in an effort to reveal the shocking incident and to invite those with "good moral standards to denounce racism, sexism, bullying, theft, bigotry, anti-semitism, Islamophobia and any unlawful acts."
A spokesman for British Transport Police said they were investigating the incident as a "hate crime."
"The incident occurred on board a District Line service heading eastbound near Blackfriars at approximately 4.15pm the same day (January 12)," the spokesman said.
"Anyone who was on board the train and witnessed what happened is asked to contact BTP by sending a text to 61016 or by calling 0800 40 50 40 quoting reference 510 of 12/01/2018."
Think your friends would be interested? Share this story!
You can share this story on social media: