'Would you prefer pet or love?' Virgin Trains apologizes for 'sexist' reply to customer complaint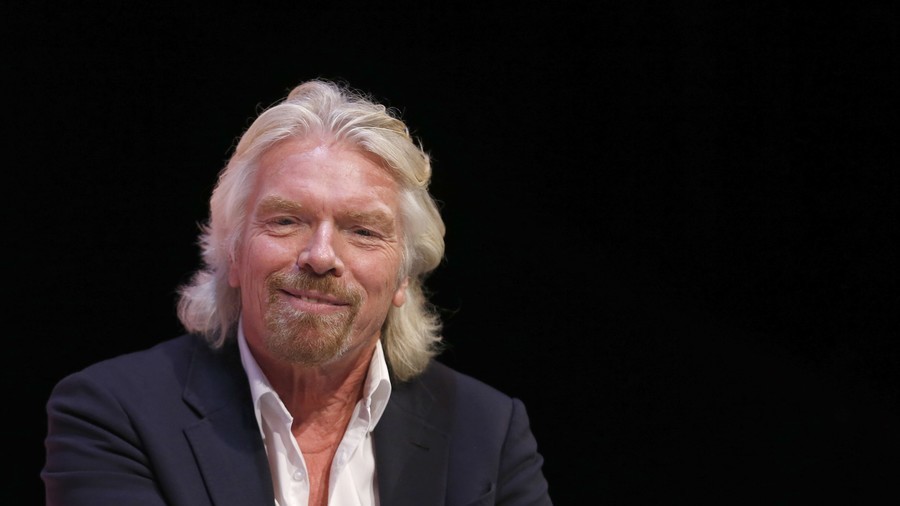 Virgin Trains has apologized "unreservedly" for replying to a sexism complaint with even more sexism. The rail company mocked a woman on Twitter after she complained about being called "honey" by a member of staff.
Passenger Emily Cole tweeted: "When Virgin Trains mess up and the older male train manager in the resulting conversation dismisses you with that hideously patronising word women shudder at in contexts such as these: 'honey.'"
Virgin Trains, owned by Richard Branson, responded by saying: "Sorry for the mess up Emily, would you prefer 'pet' or 'love' next time?"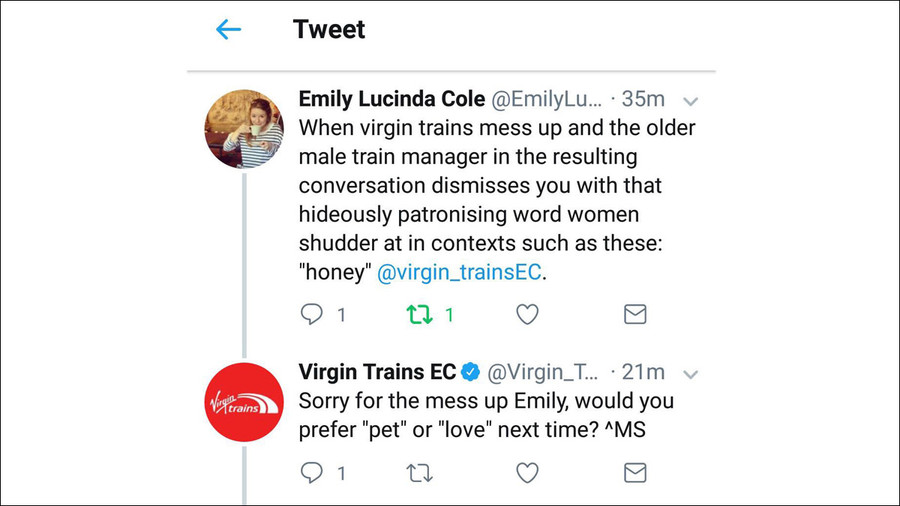 Cole shared the reply and wrote: "Wonderful to see that @virgin_trainsEC take complaints of rude and misogynistic behaviour seriously. Stunned." Hundreds of others have since taken to Twitter to call out Virgin Trains, labeling their response "patronising," "sexist," "condescending" and "inappropriate."
One Twitter user wrote: "So instead of giving good customer service, you thought it would be best to mimic the behavior being complained about?" while another said: "How is that appropriate on any level?"
Virgin Trains has now deleted its reply and apologized. It said: "We apologise unreservedly for this tweet and any offence that it may have caused. To avoid causing more offence we have deleted the original post."
READ MORE: Why take a train from London to Edinburgh... when it's cheaper to fly via Poland & Germany?
The embarrassing incident comes on the same day rail ticket prices increased, which is now usual in January. This year's increase however was the biggest in five years, spurring dozens of protests against the rise by commuter groups and unions at the UK's busiest stations on Tuesday. Private rail companies are not popular.
Senior Labour politicians joined protests over average fare increases of 3.4 percent and season ticket increases of 3.6 percent. The rise, the biggest since 2013, is more than the consumer price index inflation rate and well above average increases in annual earnings.
Rail bosses are defending the increase. The chief executive of Network Rail – the body which manages Britain's rail infrastructure – Mark Carne said passengers would see many of the benefits of investment this year, including the final stage of London Bridge station's reopening. This will be followed by the upgraded Thameslink train service in May, and the start of Crossrail services by the end of the year.
He told the Guardian: "Obviously today we see a fare increase and I know passengers are not happy, nor with the reliability of the railway, and that's why we are investing so heavily to improve it."
It's not the first time Virgin Trains has been called out for its questionable public relations. In August last year it was forced to release CCTV footage from one of its trains which proved Labour leader Jeremy Corbyn had not lied about having to join seatless commuters on the floor in a scandal dubbed 'Traingate.'
Corbyn was filmed by freelancer Yannis Mendez from the floor of a train where he chose to sit instead of upgrading to first class on his way to Newcastle from London. After CCTV footage was released by Branson, appearing to show Corbyn and his team walking past empty seats on the train, he was accused of staging the scene to make a political point.
Plutocrat tycoon Branson tweeted: "What about all those empty seats he passed?"
Following the controversy, Mendez made a formal request for the complete CCTV footage. It took Virgin seven months to comply. The firm claimed it did not release all the footage due to "technical difficulties."
However, the released footage showed the "empty" seats were in fact occupied, with some passengers only visible when they move into frame, or taken up by small children not visible from behind their seats.
You can share this story on social media: