British embassy in Kabul will move to high-security zone amid Taliban resurgence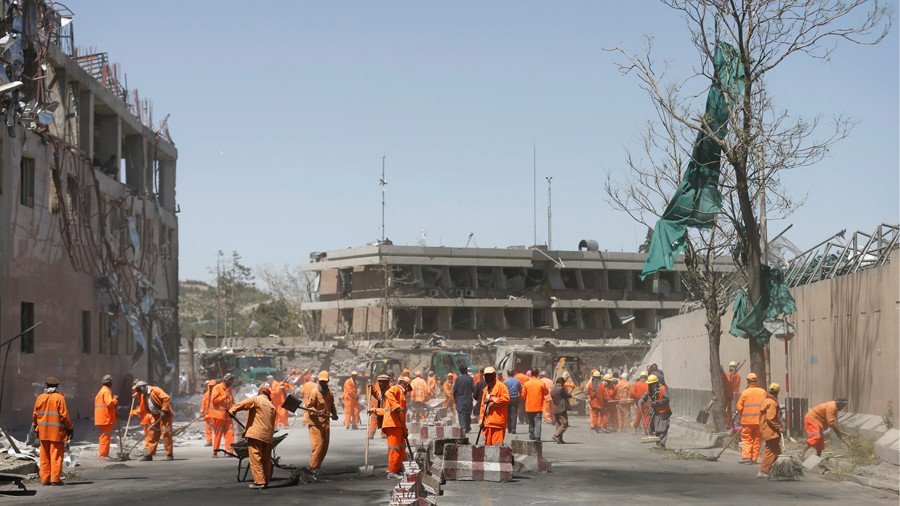 The British embassy in Kabul will be relocated to a high-security zone amid rising violence, it is understood. There are concerns that the compound is vulnerable to a bomb attack following an uptick in Taliban activity.
Sir Nicholas Kay, the British ambassador to Afghanistan, has been in talks with senior members of the Afghan government including President Ashraf Ghani about finding a new location for the embassy, The Times reports. An old Afghan ministry for transport, situated on the other side of the 'green zone' and close to the US embassy, is thought to be the most likely choice.
The relocation comes after a lorry bomb, laden with 10 tons of explosives, detonated close to the German embassy in May last year. Some 90 people - mainly civilians - were killed, and hundreds more were injured. The German compound was also damaged. The atrocity has been blamed on the Haqqani network - militants linked to the Taliban and backed by Pakistani security forces.
There has been increasing violence by terrorist groups. In the latest carnage, a suicide bomb claimed by Islamic State (IS, formerly ISIS) killed more than 40 people on Thursday at a compound in the west of the capital, which houses an Afghan news agency.
The British embassy is a heavily fortified block of offices on the edge of the 'green zone' in Kabul's Wazir Ahkbar Khan district. Hundreds of diplomats, military personnel and Afghan employees work there.
The heightened security threat has led to the withdrawal of some British officials. The total number of staff has also shrunk in recent years in line with a reduction in the number combat troops, and a formal end of military operations by British and other regular NATO forces in 2014.
It is understood that Britain has been reviewing options for a new site for some time. It is not clear how much the relocation will cost.
A Foreign Office spokesperson said that Britain's support for the Afghan government alongside its NATO allies is crucial in helping to stabilize the country and reduce the terrorist threat at home. "To that end, we maintain a significant estate in Kabul which provides a platform for the British government to deliver our work," they told The Times.
You can share this story on social media: