'Bell End' residents launch petition to change street name after ridicule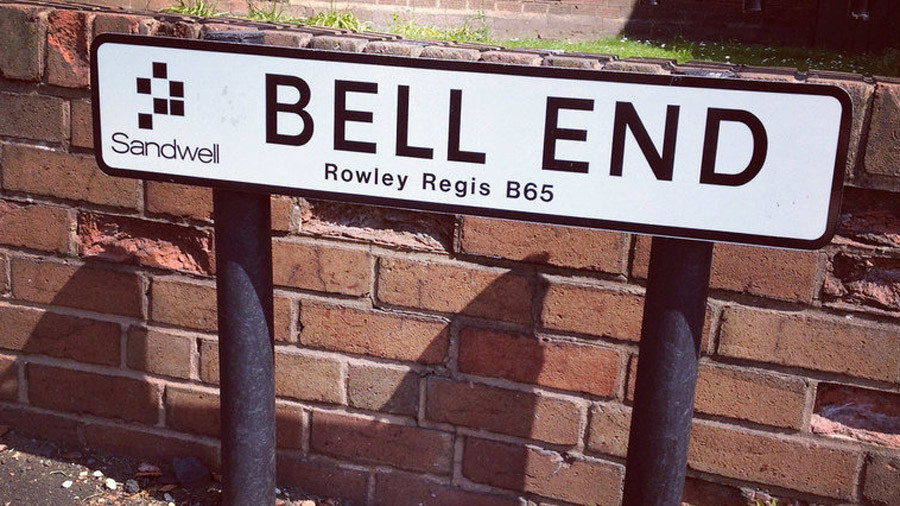 Residents living in the unfortunately named street 'Bell End' – which is also British slang for the tip of the penis – have launched a petition to change the "rude" name. They claim they have "become a laughing stock."
"As you may be aware, the term 'Bell End' can be seen and used as a rude and/or an offensive word," disgruntled residents have written in a Change.org petition about their street name in Rowley Regis in the West Midlands.
"As well as this, it can affect people and children, including children being bullied and teased at school and generally now become [sic] a laughing stock as seen very recently on Facebook and other social media sites and it's time for a change."
It adds: "Further to this, it's one of the rudest road names in England! Feel free to Google and the results will confirm this."
Residents say they want the local Sandwell Council to acknowledge its name request, changing it from "Bell End" to "Bells Road."
Independent Councillor Barbara Price, who represents the Rowley ward for Sandwell Council, told the Mirror: "If some people find the name offensive and children are being teased about where they live then there is obviously an issue. I will be consulting with residents and speaking to the cabinet member in question to see if anything can be done."
Labour Councillor Chris Tranter, however, who also represents the Rowley ward, opposes the name change. He told the tabloid: "I was born here and lived here for 40 years and it doesn't bother me. You get the odd giggle on the phone, it is quite amusing really."
A resident, who did not want to be named, said: "It was all very funny until I heard a few of the children on the street were being bullied at school. It's not their fault where they live. I think the road name should be changed to something less silly."
READ MORE: Boaty McBoatface II? P&O bravely asks the public to name its new ferry
Three years ago the road, which has an average property value of £125,000, was placed in the top 15 list for rude sounding place names. Semi-detached homes on Bell End sell for £60,000 less than a similar property on nearby Uplands Avenue.
Other listed rude street names include Minge (= vulva) Lane in Upton-upon-Severn in Worcester, Crotch Crescent in Marston, Oxon, Cock Lane in Farringdon, London and the Knob (again, = penis) in King's Sutton, Northamptonshire.
You can share this story on social media: