Liquify your loved ones? New eco-friendly burials could replace cremation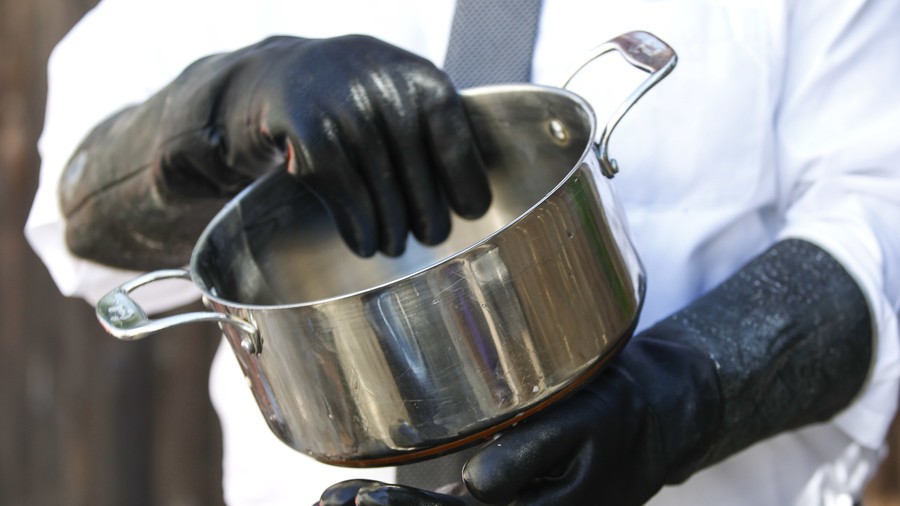 British families could soon opt to have their late loved ones liquefied and poured down the drain in environmentally friendly sendoffs. The technique is thought to be more efficient than burial or cremation.
A council in the West Midlands is hoping to offer resomation – or water cremation. Bodies are submerged in an alkaline solution in a metal vat, which is then heated for around three hours in a process known as alkaline hydrolysis.
The result is a green-and-brown tinged liquid with bone fragments which can be ground down to return to families in an urn.
One added benefit of the 'green' funeral is anything inserted into the body can be found intact afterwards, including artificial joint replacements and golden teeth.
While cremation destroys breast implants and explodes pacemakers, resomation leaves them in one piece.
Leeds based Resomation Ltd is hoping Britons will consider the process for after their death as concerns are raised over carbon emissions from crematories.
However, plans of the local authority in Sandwell, near Birmingham, to bring in a £300,000 "Resomator" have been delayed by water company Severn Trent. The company is yet to hand over a "trade effluent" permit to the council, arguing that it only covers waste disposal and not dissolved bodies.
The process is popular in Canada and the US, but not everyone in the UK has warmed to the idea.
A source at Water UK, the trade body representing regional water suppliers, told the Sunday Times: "This is an absolute first in the UK, we have serious concerns about the public acceptability of this.
"It is the liquefied remains of the dead going into the water system. We don't think the public will like the idea."
Sandy Sullivan, 61, founder of UK firm Resomation, says "dozens" of British funeral directors are interested in his machine.
"There is no technical reason why the liquid can't go down the drain. It is a very treatable organic liquid. It is sterile and there is no DNA in it," he said.
"We are copying nature. The body dissolves by soil bacteria and it is a very long process.
"This is a third option, other than cremation and burial. Resoma in Latin means 'rebirth of the human body. When I die, this is the way that I want to go."