Argentine submarine 'chased by British helicopter' before disappearing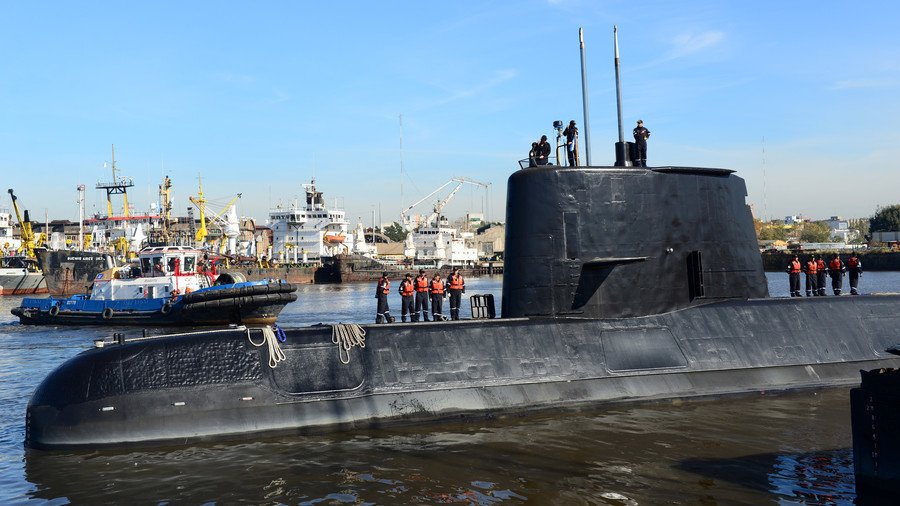 An Argentine submarine that went missing with its 44 sailors in November had been chased by a British helicopter before its disappearance, it has been claimed. The sister of one of the sailors said this was her brother's final message.
Jesica Medina said she got a message from her brother Roberto Daniel just days before the vessel vanished on November 15.
She reports her brother telling her that the ARA San Juan was sailing close to the British-held Falklands (known as Islas Malvinas in Argentina) when a Royal Navy helicopter started chasing them down, along with a Chilean ship.
"On Monday, an English helicopter was looking for us, and yesterday the Chileans, there has been a lot going on," second sub-officer Roberto Medina told his sister in the message, adding that they were now heading for home.
In an interview with Argentina's La Gaceta newspaper, Jesica said "many" families were also told the submarine had been fleeing the British.
"It was a strange message in which he told us a British helicopter and a Chilean ship had been chasing them," she said.
"I don't know how close they got to the Malvinas, and I don't know what the political situation is like. That's what he told us and that is what we were left with."
She added: "I think we're not the only family that has something like that, I think there are a lot of them. Judge Yanez will have to investigate," she said, referring to the lead investigator.
The UK Ministry of Defence (MoD) has denied the claim, with a spokesman telling the Daily Mail: "This story is completely untrue."
The submarine's last known location was about 300 miles from Argentina's southern coast and is believed to have disappeared following a battery failure.
The crew is feared dead, as they only had 10 days of oxygen left if the submarine remained intact under the sea, according to experts.
"The extreme environment, the time elapsed and the lack of any evidence eliminates a scenario compatible with human life," Argentine Navy spokesman Enrique Balbi said last month, IBT reported.
"These are hours of intense pain and anguish [for relatives] in light of the loss of their loved ones, our 44 comrades," Balbi said.
Britain and Argentina fought a short, savage war over the Falklands/Malvinas in 1982 when Argentina seized the British overseas territory in the South Atlantic. Then-Prime Minister Margaret Thatcher sent a task force to retake the islands. In the fighting that followed, 655 Argentine and 255 British servicemen lost their lives, as did three Falkland Islanders.
Argentina still claims the islands as its own. The issue has resurfaced in recent years as Britain has begun to explore possible offshore oilfields in the area.
It may seem farfetched to suggest the British are involved in the submarine's disappearance, but many Argentines remember how brutal the Brits can be. The ARA General Belgrano was sunk by the Royal Navy submarine Conqueror during the Falklands war, killing 323 Argentine sailors. The ship had been retreating.
You can share this story on social media: