Event 'consistent with an explosion' near last known location of missing sub – Argentine navy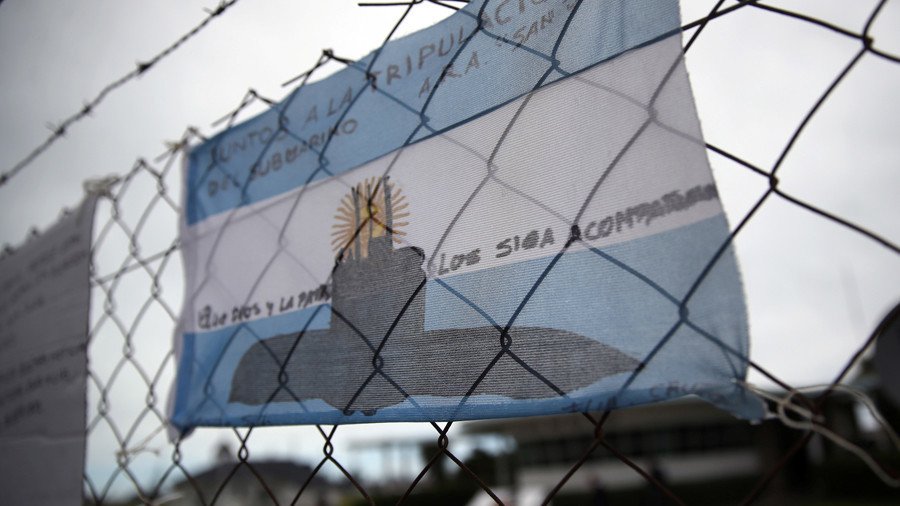 An unusual sound detected around the time that an Argentine navy submarine sent its last signal before going missing last week was "consistent with an explosion," according to a navy spokesperson. It occurred near the last known location of a missing submarine carrying 44 people.
It comes as a dozen countries conduct a search and rescue mission for the ARA San Juan, which disappeared on November 15. It was believed that those on board could still be alive, but running out of oxygen.
Search teams have been covering an area of some 185,000 square miles (480,000 square kilometers), which is roughly the size of Spain.
Spokesman Enrique Balbi described the November 15 incident as "abnormal, singular, short, violent" and "non-nuclear," Reuters reported.
Balbi said that relatives of the crew members on board had been informed that the search would continue until there was certainty about the fate of the submarine.
The Comprehensive Nuclear-Test-Ban Treaty Organization (CTBTO), an international organization which works to end nuclear tests worldwide, also said it detected an "unusual signal" near the submarine's last known position on November 15. It said the signal could have been an explosion, but stressed that the exact cause remains unclear.
Our hydroacoustic network detected an unusual signal near the last known position of #missing San Juan #submarine. The signal from an underwater impulsive event was detected 15 Nov 13:51 GMT, Lat -46.12 deg; Long: -59.69 deg. Details & data shared with Argentinian authorities. pic.twitter.com/SU5XHiICb4

— Lassina Zerbo (@SinaZerbo) November 23, 2017
Rescue teams have been focusing their efforts on the surrounding area of the "hydro-acoustic anomaly," which occurred at 30 nautical miles north of the last position whence the submarine had communicated. According to US Navy Lt. Lily Hinz, the sound could not be attributed to marine life or natural ocean noise. "It was not a whale, and it is not a regularly occurring sound," she said, as quoted by AP.
You can share this story on social media: