PM creeping into Grenfell service via back door is an insult, survivor tells RT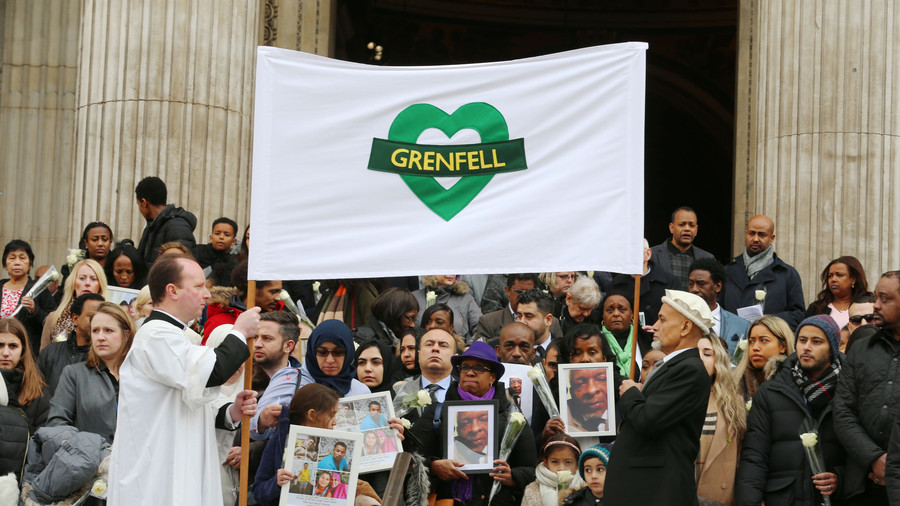 UK Prime Minister Theresa May attended Thursday's memorial service at St Paul's Cathedral in London, which marked six months since the Grenfell Tower fire. Rather than make a grand entrance, however, the PM crept in through the back door. Grenfell survivors were not impressed.
Survivors and bereaved families were joined at the service by the Prince of Wales, Duchess of Cornwall, the Duke and Duchess of Cambridge and by Prince Harry.
The service commemorated the 71 people who lost their lives when the 24-storey tower block in north Kensington was ravaged by fire.
The PM had revealed that she would be participating in the memorial on Wednesday, and was ushered into London's iconic cathedral through St Paul's churchyard gardens. One of the Grenfell survivors, Allison Moses, told RT the PM was a "coward" for not using the main entrance.
This isn't the first time May has side-stepped the victims. Labour leader Jeremy Corbyn, London Mayor Sadiq Khan and even the Queen endeavored to meet the survivors face-to-face following the deadly blaze. But May limited herself to a private meeting with emergency services, sparking accusations of her "failing to show humanity."
Grenfell survivor Moses accused May of not doing enough to support the Grenfell community, and criticized her for failing to meet her promise to relocate all residents within a few weeks. Many residents are "still in hotels" this Christmas.
"From day one she came here with her scheme to re-house people in three weeks, but that didn't materialize, it never happened," Moses told RT.
READ MORE: Building firms that installed cladding on Grenfell-style blocks rehired to remove it
The mother-of-one said the "stone-face" PM had failed to apologize or to meet the residents in the aftermath of the fire. If the Queen could have the humility to engage with the people, Moses asked, why couldn't May?
The PM's decision to slink into the memorial service through the back entrance "is an insult right again. Why is she so special that she cannot show any empathy for us?" Moses asked.