Far-right Britain First leader Paul Golding is arrested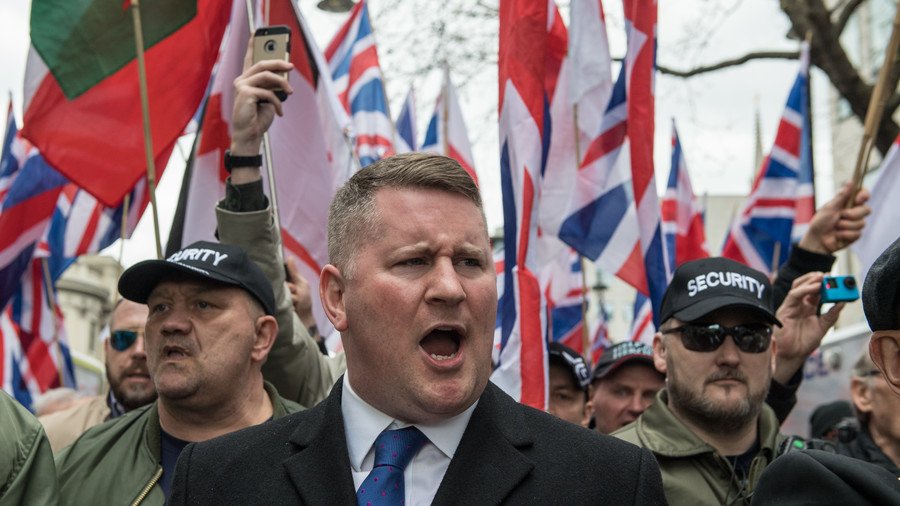 Britain First leader Paul Golding was arrested and handcuffed in Belfast on Thursday, while accompanying deputy leader Jayda Fransen to court, where she was due to appear over hate speech charges.
Police have confirmed that a 35-year-old man had been arrested by detectives investigating speeches at the Northern Ireland Against Terrorism Rally in August.
A police spokesman said: "Detectives investigating speeches made at the Northern Ireland Against Terrorism Rally on Sunday 6th August this year have arrested a 35-year-old man today … in the Belfast area."
They added Golding had been taken to Musgrave Police Service of Northern Ireland (PSNI) Station for interview.
Golding was arrested as Fransen was due to appear in court over a speech she gave at Belfast City Hall in August. She was arrested last month by the PSNI in south-east London, and faces two charges relating to behavior intended or likely to stir up hatred.
Her defense lawyer indicated she would plead not guilty.
She is due to appear in court on January 9, but before her return to London, officers sought to have her banned from taking part in any public rallies, amid "concerns there would be further offences and also concerns about public order," police said.
Fransen's lawyer said: "The idea that she be prevented from speaking, in my respectful submission, is completely disproportionate."
The case was adjourned until later on Thursday in order to assess information.
READ MORE: 'Presidents come & go': Britain First retweets could finish Trump-May 'special relationship'
Fransen recently shot to global attention after US President Donald Trump retweeted three Islamophobic videos from her page to his 44.6 million followers.
The President's re-tweet stirred international outcry, leading to calls for his planned trip to the UK to be cancelled.
In a Twitter video at the time of Fransen's arrest, Golding said: "A large group of plain clothes police detectives from Belfast, of all places, jumped out of nowhere and have arrested Jayda.
"What have they arrested her for? Both of us addressed, made a speech, at a public demonstration outside Belfast City Hall all the way back in August.
"The detective I spoke to told me she is being flown to Belfast tonight to be interrogated. It's absolutely ridiculous - this is non-stop with me and Jayda, non-bloody stop."
You can share this story on social media: