London's air pollution cancels out benefits of exercise, study says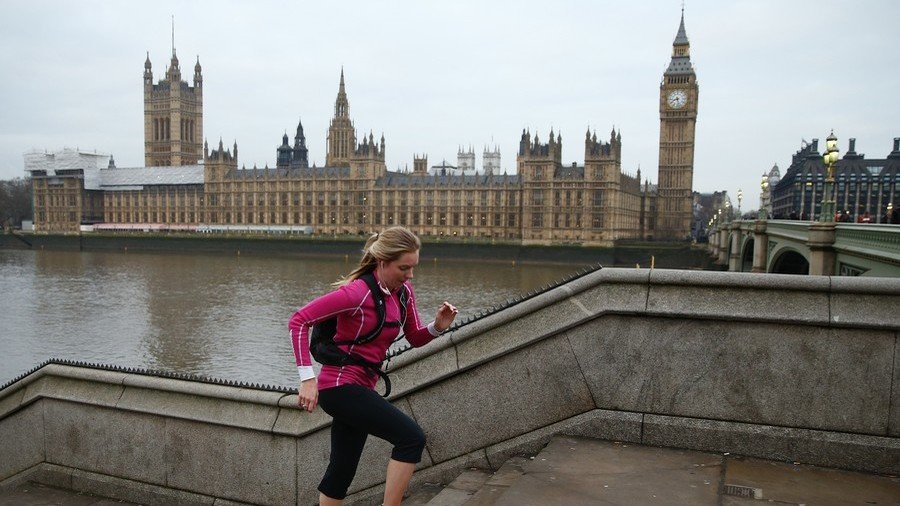 If you like jogging around central London, you might want to reconsider. New research shows pollution in some parts of the capital is so bad it cancels out the benefits of doing exercise.
Scientists from Imperial College London measured the health boosts that people aged over 60 received from brisk walks in different parts of London. They found cardiovascular benefits of exercise along Oxford Street are completely negated by exposure to air pollution for over 60s.
In comparison, when they walked in Hyde Park "all participants, irrespective of their disease status… [had] an increase in lung function," researchers wrote in the Lancet medical journal. Their pulse wave velocity – a measure of stiffened arteries – also fell, and the benefits lasted a full day.
The study added: "These beneficial responses were attenuated after walking on Oxford Street."
The researchers found levels of pollution – including fine particulate matter, black carbon and nitrogen dioxide – were significantly higher on Oxford Street compared to Hyde Park.
"Our findings suggest that healthy people, as well as those with chronic cardiorespiratory disorders, should minimize walking on streets with high levels of pollution because this curtails or even reverses the cardiorespiratory benefits of exercise," the researchers wrote. "Instead, walking exercise should be enjoyed in urban green space areas away from high density traffic," the authors advised.
"Exercise is crucial in reducing the risk of a heart attack or stroke, but it seems dangerous levels of air pollution could be erasing these benefits in older adults. When exercising it's best to avoid highly-polluted areas, swapping them for green spaces or even back streets where pollution is lower. This will ensure you can experience the full benefits of exercise," said chief executive of the British Heart Foundation (BHF) Simon Gillespie, whose organization funded the study.
"However, telling joggers to avoid polluted streets is not a solution to the problem. The Government must put forward bold measures to make all areas safer for our hearts and clean up the UK's toxic air," he added according to the Huffington Post.
Professor Fan Chung, who led the research, said, "these findings are important as for many people, such as the elderly or those with chronic disease, very often the only exercise they can do is to walk. Our research suggests that we might advise older adults to walk in green spaces, away from built-up areas and pollution from traffic."
Previous BHF research has shown that long-term exposure to air pollution leads to inflammation in the blood vessels, including those supplying the heart, and promotes the buildup of fatty plaques in the linings of blood vessels, which can eventually lead to a heart attack or stroke.
London Mayor Sadiq Khan has pledged to make reducing air pollution one of his top priorities and announced a global network to tackle the issue while on a trip to Delhi this week. With support from the network of cities, he will set up a trial million-pound street-by-street air monitoring system to analyse pollution in over 1,000 hotspots including in schools, hospitals, construction sites and busy roads.
You can share this story on social media: