British spies thwart terrorist plot to 'blow up & assassinate' PM May, suspects in court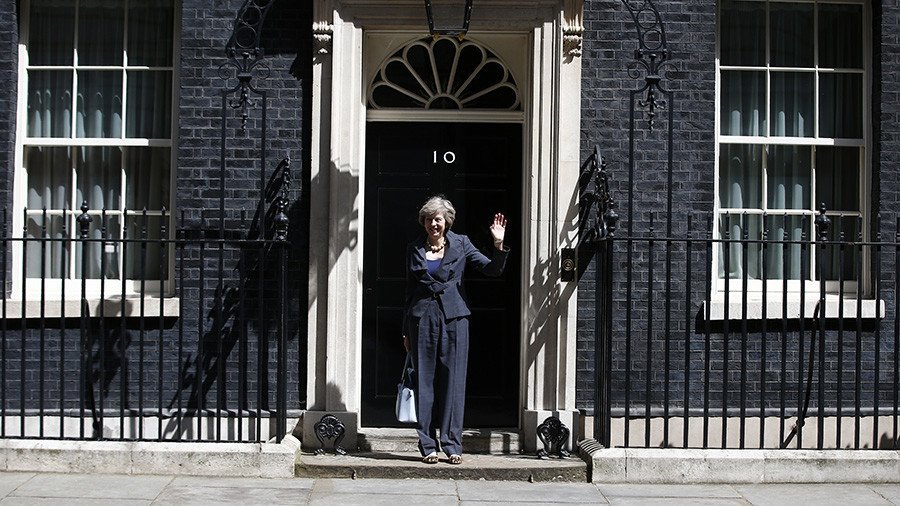 Two men appeared in a London court accused of plotting to kill British Prime Minister Theresa May. UK intelligence claims to have thwarted the alleged assassination plan, one of nine terrorist schemes spies have reportedly prevented in 2017.
A prosecution lawyer alleged that the plot was to detonate an explosive device at the gates of Downing Street, gain access to May's office at Number 10 and to kill her.
Naa'imur Zakariyah Rahman, 20, from North London, appeared on Wednesday morning in Westminster Magistrates' Court charged with terrorism offences.
21-year-old Mohammed Aqib Imran, from Birmingham, also appeared, accused of preparing terrorist acts.
Both plead not guilty. The two men were arrested last week during security raids.
The planned alleged attack was reportedly revealed by Andrew Parker, head of the United Kingdom's domestic counterintelligence and security agency (MI5), who briefed Cabinet ministers in London.
The plot was foiled thanks to the joint efforts of Scotland Yard, MI5, and West Midlands Police, which have pursued the suspects "over several weeks,"according to Sky News.
The alleged plot to kill May is just one of the nine deadly schemes that British intelligence had reportedly scuppered in the past 12 months, Parker told the PM and her senior ministers Tuesday, the prime minister's official spokesman said after the meeting.
"Mr. Parker said that nine terrorist attacks had been prevented in the past year," the spokesman said. "There have been five attacks that have got through, four of which are related to Islamist terrorism."
READ MORE: MI5 failed to stop Manchester bomber despite 'warnings from friends' – report
Parker also warned the ministers that the threat from Islamic State (IS, formerly ISIS) is still very real despite the terrorist group's demise in Iraq and Syria. The danger, MI5 believes, "has spread into new areas, including trying to encourage attacks in the UK and elsewhere via propaganda on social media."
Parker's disclosure came hours after the publication of an independent assessment by David Anderson QC, which examined the handling of intelligence by police and security officials leading up to four Islamist-linked attacks in the UK from March to June that left a total of 36 people dead.
"Despite elevated threat levels, the fundamentals are sound and the great majority of attacks continue to be thwarted," Anderson said. "But the shock of these incidents has prompted intensive reflection and a commitment to significant change."
"In particular, MI5 and the police have identified the need to use data more effectively, to share knowledge more widely, to improve their own collaboration and to assess and investigate terrorist threats on a uniform basis, whatever the ideology that inspires them," he added.
Commenting on the report's findings, Amber Rudd, the Home Secretary, told the House of Commons Tuesday that "the pace of attacking planning had increased significantly this year."

"Plots are developing more quickly from radicalization to attack, and threats are becoming harder to detect," she added, according to the Independent. "We must learn all that we can from these attacks, and make sure our overall counter-terrorism response is equal to the shift we have seen in the threat."
You can share this story on social media: