Shame, spin and no substance - visibly angry Corbyn fumes over Tory budget (VIDEO)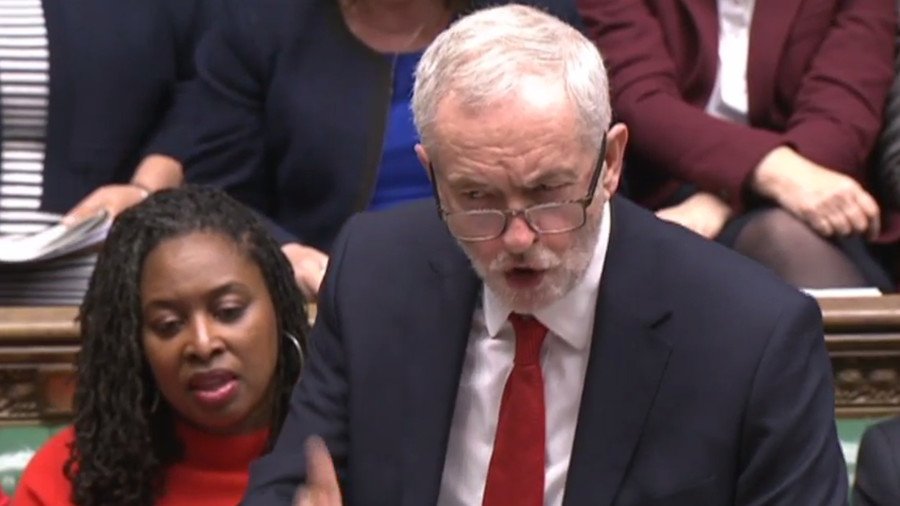 A furious Jeremy Corbyn looked as though he wanted to leap across the Commons and bash Philip Hammond over the head with his little red box, after the Tory chancellor delivered his annual Budget speech.
The Labour leader poured his scorn on the May government over announcements that the Tories claim will pull Britons out of poverty and put the young on the property ladder.
Corbyn slammed the government, and mocked them for the policies that he agreed with, stating they had been "lifted" from his own manifesto.
"It's falling pay, slow growth and rising poverty," he said.
"This is what the chancellor has the cheek to call a strong economy. The poorest tenth of households will lose 10 percent of income by 2022, while the richest will lose just 1 percent. So much for tackling burning injustice. This is a government tossing fuel on the fire," added the Labour leader.
"8.3 million people are over indebted. If he wants to help people out of debt, back Labour policy for a real living wage of £10 ($13.28) per hour by 2020."
Corbyn said the plan to eradicate stamp duty on a "temporary basis" for first time buyers on houses up to £300,000 ($398,000), or the first £300,000 ($398,000) of a £500,000 ($663,200) home, was stolen from Labour.
He accused the Tories of putting "profit before people" and promoting "one rule for the super-rich and another for the rest of us" over the recent Panama papers and cuts that are blamed for the cheap cladding on Grenfell Tower, where dozens perished in a fire.
Corbyn claimed over one million elderly people cannot afford the care they need, and their relatives are having to leave work to care for them. He fumed to a chorus of "shame" and "tell them Jeremy" from the backbenches.
He said that 5,000 head teachers from 25 counties "wrote to the chancellor asking for the money taken out of the system to be returned."
Corbyn shouted: "Local councils will have lost 80 percent of direct funding by 2020. The reality is women's refuges closing. Youth centres closing... It could be so different."
The push to invest in tech and driverless cars was also mocked. Corbyn said May wanted "driverless cars after months of backseat driving in the government."
He also poured scorn on the government's record on poverty. "The number of people sleeping rough has doubled since 2010," he said. "120,000 children will spend Christmas in temporary accommodation.
"We want action now, to help those poor people forced to sleep on our streets and beg for the money. Three new pilot schemes for rough sleepers simply doesn't cut it. In some parts of the country life expectancy is beginning to fall."
Corbyn cited a number of people who had written to him and said the government's plan to amalgamate their benefits under the Universal Credit rollout had left them in rent arrears. He also said NHS workers were over-worked and under-funded and deserved a better wage.
Hammond promised that conditions for people on Universal Credit would improve, and they would be paid from the date claimed, abolishing the week-long waiting period.
"The chancellor's solution is to offer a loan and a six week wait," said Corbyn. "What all too many are experiencing is long term economic pain and the hardest hit are the disabled, single parents and women. They call this a budget fit for the future. This is a government no longer fit for office."
You can share this story on social media: