Labour's transgender women's officer insists rape joke Twitter account isn't hers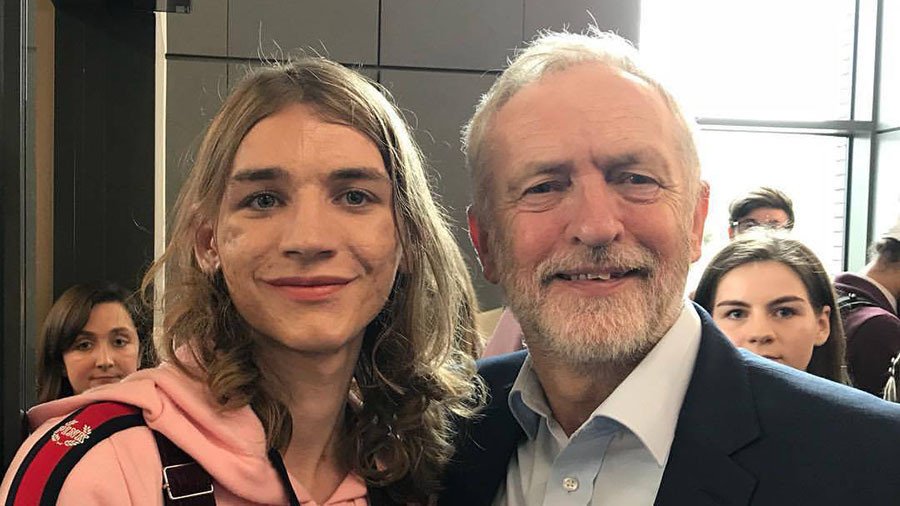 Labour's newly elected women's officer, who was born a man, has denied tweeting jokes about rape, Jimmy Savile and blowjobs before she began identifying as a woman. A now-deleted Twitter account was flagged by critics.
Lily Madigan, 19, was elected as women's officer in Rochester and Strood, Kent, after she accused her predecessor Anne Ruzylo, 52, of transphobic views and demanded her removal. She was then elected to the role with a four-vote majority when around 85 members took to the ballot box.
Madigan has now been linked to a Twitter page under her previous name, "Liam." Social media searches have revealed disgusting posts and references to rapists from pages allegedly run by Madigan.
On a post for "Liam Madigan" there are links to 'rape' websites and references to serial sex offender Jimmy Savile. Madigan's face is the profile picture – when she was a man – making a rude sexual gesture.
Now named Lily, the officer insists it was a "fake account under prior name set up to tease" her.
Fake account under prior name set up to tease me obviously hasn't been run by me in any capacity. Have requested its removal. Thanks x

— Lily Madigan (@madigan_lily) November 21, 2017
"[It] hasn't been run by me in any capacity," she posted on a brand new Twitter account.
But the page, which retweeted posts from her brother in 2013, is still being linked to her.
Supporters of Madigan's predecessor are outraged. Ruzylo had stood aside from the voluntary role after being accused of making transphobic comments on Twitter. Many have even said a "man in a frock" cannot replace a woman in the role of women's officer.
Labour Party rules state a "women's officer must be a woman," but Madigan said it was "misguided" to say she could not fulfil the duties of the role just because she was born male.
Madigan's appointment came after every member of a local Labour Party executive committee in Bexhill and Battle resigned. The mass walkout happened after Ruzylo's resignation. Her colleagues were outraged at calls for her dismissal when she was accused of making anti-trans comments on Twitter.
In response Ruzylo said: "Debate is not hate. If we can't talk about gender laws and get shut down on that, what's next? We're going back to the days of McCarthyism. It is disgraceful."
Madigan, who wants to be the first trans MP, told the Times: "Firstly, trans-women are women, women who are vastly more under-represented than most. We haven't even had a transgender MP yet."
"Like most women, I'm a feminist. They aren't mutually exclusive issues, far from it. I would argue strongly that all appeals to biology are anti-feminist. We can't challenge the view we are limited by our biology in one breath and use the biology argument against trans women in the next. Someone who is an accountant would probably make a better treasurer initially, but that doesn't mean we should only give the role to an accountant."
Medway councilor and vice-chairwoman of the executive committee of Rochester and Strood CLP, Teresa Murray, said the comments were "distasteful." However, the deputy leader of the Medway Labour Group also said she is fully supporting Madigan.
"These are things she put up before she was a women's officer," she told RT. "If she wants to apologize that will be up to her. We cannot take responsibility. I want to make sure women understand that Labour supports all women. Lily is a young person and we want to help her develop."
Murray said Madigan won in a fair vote and there have been no complaints inside the party on a local level. She also stressed the role is voluntary and completely internal, and that "going forward" any such comments would see the teenager removed.
The issue will be discussed at the next executive committee meeting on December 5.
You can share this story on social media: