Woman on horseback filmed whipping anti-hunting activist with riding crop (VIDEO)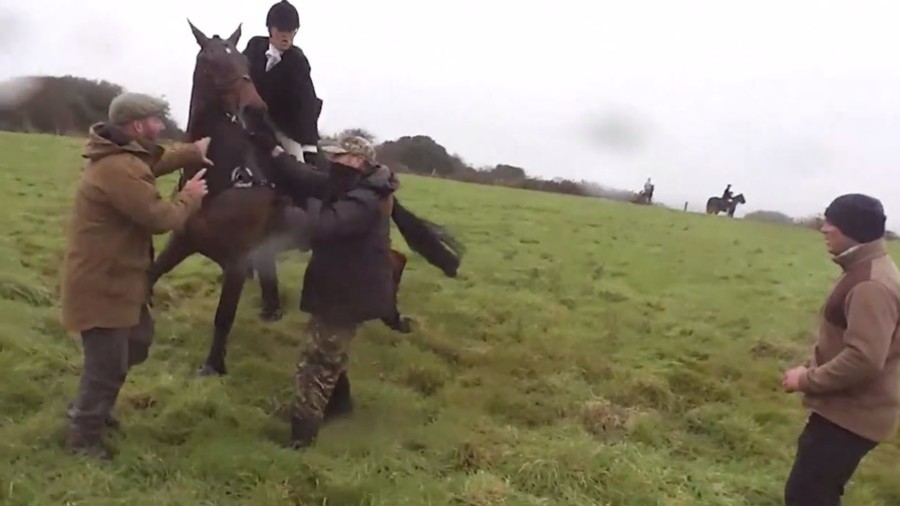 Hunt saboteurs have released footage of a woman on horseback repeatedly hitting an activist with a riding crop. The video, which has gone viral, shows a protester yanking at the horse's reins while its rider yells "get off my horse."
The violent clash took place at the Pevensey marshes on Saturday between members of the Brighton Hunt Saboteurs and riders allegedly from the East Sussex and Romney Marsh Hunt Club.
Fox hunting with three or more dogs was made illegal in the UK in 2005. The footage released online by the hunt saboteurs shows an air-holed box for the hounds, however the video does not show how many dogs were with the group or any actual hunting taking place.
In the video the riders can be heard repeatedly asking the masked protesters to fall back to the road, advising them that they are trespassing on private property. One of the horses can be seen prancing back and forth, agitated by the heated (but not yet violent) confrontation.
The quarrel then took a sour turn when the rider of the skittish bay rode her horse at a protester. Another anti-hunting demonstrator can be seen grabbing at the reins, prompting a barrage of whiplashes from the horse woman.
Although the activist were motivated by animal welfare, the bay horse can be seen shying to the side in fear and discomfort as the protestor pulls at the reins. The anti-hunting group has since shared on social media that the hunt group failed to flush out any foxes that day as a result of their action.
Activist group South Coast Hunt Sabs shared the video of the altercation online. Stills from the footage have also been shared on social media, attracting hundreds of commenters condemning the rider's actions.
Calls on social media for a targeted, violent attack against the rider in question were quickly shut down by the group, which said "even if we were violently inclined the police are so biased against sabs, they'd have an absolute field day if we became the aggressors."
Others said the sabs "provoked" the attack and only posted "videos [of the] aftermath." Another commenter who identified himself as an "agent for the landowner" on whose land the hunt allegedly took place, called the group "cowards" for " hiding behind [their] masks."
The identity of the female rider is currently unknown.
You can share this story on social media: