Fox-hunting saboteur ends up in hospital after filming bloody clash (VIDEO)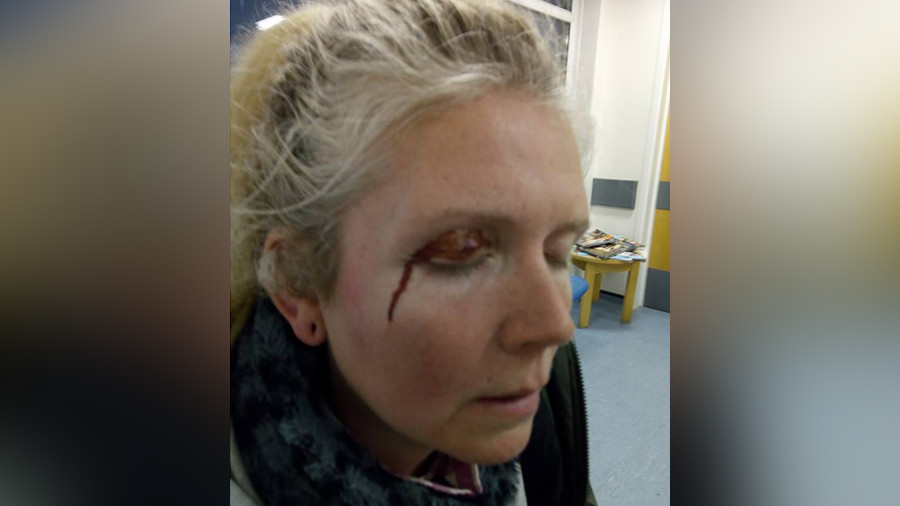 A bloodied female fox-hunting saboteur needed hospital treatment after clashing with two men she filmed on a nearby hunt. Footage shows supporters of the Warwickshire Hunt hit the camera, slap the woman across the face and push her down into a muddy track.
The five-minute video captured on saboteurs' phones shows people on horseback repeatedly being accused of hunting and failing to tell them where the trails are. When one of the saboteurs claims there is "illegal activity" going on, a man puts his hand on the camera and pushes it away.
A supporter of the Warwickshire Hunt can then be seen hitting the camera and pushing it away, saying "get gone." He then slapped the woman across the face, making her eye bleed. Another supporter hurled verbal abuse, following the camera.
The first, older, man then repeatedly shoved the woman in the back until she fell to the ground. Lying in the mud, she can be heard saying: "I have just been assaulted. I have just been slapped in the face."
The victim from the West Midlands Hunt Saboteurs asked the male hunt supporter why he hit women. The man replied: "You can hit me if you want. I don't give a f***."
The female saboteur then approached a female hunt master in a car, and asked whether she thought it was acceptable to hit women. A female passenger in the back of the car said: "You're not a woman. You're a monster." She added that the eye injury was "nothing."
The alleged victim received treatment for her eye injuries at the Accident and Emergency Department at Warwick Hospital.
A spokesperson for the hunt saboteurs told the Mirror that this incident shows the type of people that some fox hunters are.
"We were concerned that the hunt were [sic] hunting a fox and that the hounds were heading towards a busy main road. Suddenly two hunt supporters approach us and start shouting aggressively before attacking us. It shows what type of people fox hunters are that they think it is acceptable for men to attack women, punch them and then shove them from behind."
A spokesperson for the Warwickshire Hunt told the paper that hunt organizers comply with the UK's hunting act.
"The Hunt does not condone any form of violence, even when faced with extreme provacation, personal harassment and other serial offences."
You can share this story on social media: