Farmer filmed attacking anti-hunting campaigners, ramming them with quad bike (VIDEO)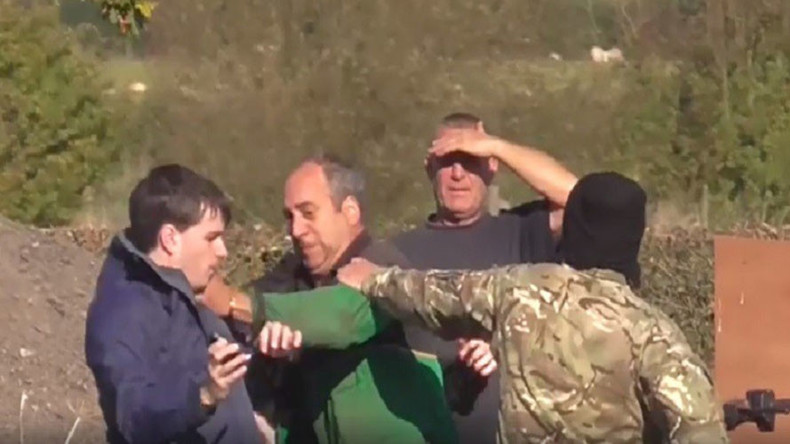 Shocking footage has emerged of a furious farmer ramming anti-hunting campaigners with a quad bike, throwing punches and making violent threats – while insisting his actions are protected under UK law.
A video has emerged online of a farmer charging at protesters on a quad bike while yelling "get off my land."
The West Midlands Hunt Saboteurs were recording evidence of a suspected hunt on the land.
Fox hunting, a bloodsport commonly associated with the landed gentry, was made illegal in the UK in 2004.
In the footage, the farmer demands the activists leave, telling the cameramen they are on private property.
The filming was taking place on Saturday afternoon near the Leicestershire village of Ratcliffe Culey, when the angry farmer arrived.
Three allegedly trespassing saboteurs, or 'sabs,' were targeted by the farmer who jumped off his quad and pushed one activist into a ditch.
Declaring he has the right to force them off his land, he shouted: "You are on private property, I can do what I want."
As the sabs make their way off the land, the farmer rams one of them into a bush with the quad bike.
"That's one more, does anybody else want some?" he shouts.
Men who come to the aid of the farmer also begin to make threats.
One shouts: "Film me you little b**** and I'll kill you."
"F*** off d***heads, I'll whip me k**b out in a minute for the camera if you want," another adds.
A spokesperson from West Midlands Hunt Saboteurs said they do not believe the farmer is the landowner, and that they have been attacked by him previously, but police took no action.
"This was absolutely shocking violence from the Atherstone Hunt, the saboteurs were just standing peacefully filming the hunt when they were violently attacked out of the blue," a statement said.
"We were just standing on the track filming the hunt and then out of nowhere this quad bike sped up to us.
"He just immediately started laying punches.
"When we kind of got ourselves together and tried to walk away to defuse, he starts ramming us with his quad bike.
"The people hit by the quad were extremely lucky not to have been hospitalized with serious injuries.
"The one person could have been seriously injured, he went at him with speed – if the quad bike carried on it could have landed on him in the ditch.
"When we get back to the road the other hunt parties start joining in and one was trying to get his penis out, which was bizarre.
"I don't know why any normal person would think to do that.
"It's the kind of mentality these people have really.
So, who is in the right?
Trespass
Under the Crimes Act 1961, Britons have the right to use "reasonable force" to remove someone trespassing on their property.
The farmer insisted he is in the right, because it is "his land," but the law does not give him the right to act as he pleases.
Reasonable force does not include striking a person or inflicting bodily harm.
However, the sabs group said police have been informed and no action has been taken so far.
Hunting
Moreover, the Hunting Act 2004 banned the use of dogs for hunting in Britain, although it allows for drag hunting.
Drag hunting is held across the country when dogs are allowed to follow an artificial scent.
However, real animals are often caught up in this and killed.
Enquiries continuing
A spokesman for Leicestershire Police told RT an investigation has been opened.
"Officers are investigating an allegation of assault after a man sustained minor injuries in Ratcliffe Culey, Leicestershire, at the weekend," he said.
"A report was made at 12.31pm on Saturday, October 14, which related to the victim having sustained an injury as a result of being involved in a collision with a quad bike.
"Enquiries are continuing into the incident."
You can share this story on social media: