Fox hunting protester arrested after shouting 'kill May' at campaigning PM (VIDEO)
Published time: 22 May, 2017 14:12
Edited time: 23 May, 2017 11:05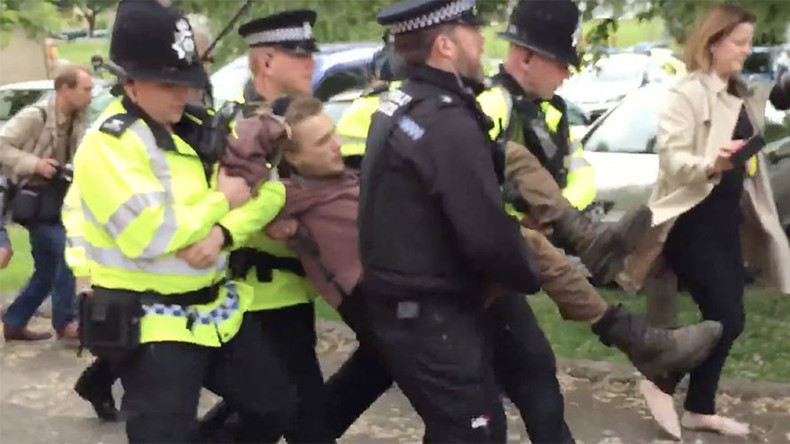 An anti-hunt activist has been arrested after protesting at Prime Minister Theresa May as she visited a community center. The man sounded a bugle and shouted "kill May."
Footage of the incident shows the man being forcibly removed by police officers on site as he expresses anger at May's pledge to allow a vote on making fox hunting legal again.
As the Tory leader arrives for her visit, the protester can be heard sounding a hunting bugle before he says "save our wildlife, kill May."
The protester, who said his name is Connor, carried on with his demonstration before police officers dragged him to nearby vans.
"This is the fascist state that we are living in under Theresa May's regime," the man can be heard shouting.
Connor reportedly said he was criticizing "hunting, austerity, fracking, the lot."
"I've not done nothing wrong," he added.
This was backed by another demonstrator, who told police Connor had done nothing wrong and that their response was a "farce."
An officer then confirmed Connor was "under arrest."
When pressed on what charges, the officer replied "breach of the peace."
May caused public outcry when she announced last week that she would allow a Commons vote to repeal the ban on fox hunting.
The PM said she would call for a vote to lift the ban as the practice is much less cruel than any other way of keeping "fox numbers down."
Eduardo Gonçalves, chief executive of the League Against Cruel Sports, opposed repealing the ban as he argued the legislation was enforced to prevent the unfair killing of millions of animals.
"Hopefully any attempt to repeal, weaken or replace the Hunting Act will be prevented by those members of all parties who oppose the killing of animals for fun," he was reported saying on the Daily Mail.
"I think most people can see through attempts to claim that hunting is somehow good for the animals that are killed, and these figures show the reality.
"The intention of the Hunting Act was to stop animals suffering because of hunting – and if the law had been properly enforced we believe it would have helped up to 2.8 million animals."