Prince Harry breaches military rules by sporting beard at Remembrance Sunday service (PHOTOS)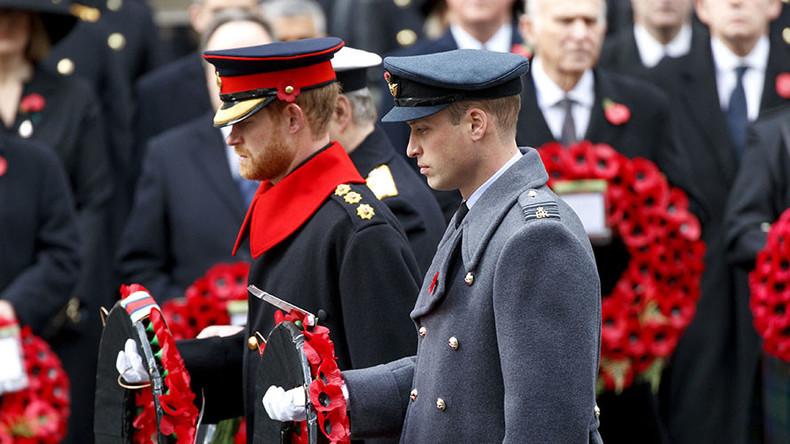 Prince Harry has been accused of "letting down" members of Britain's armed services by sporting a beard at an event to honor the country's war dead. The facial hair is in breach of military codes for servicemen in uniform.
Despite being retired from active service since 2015, hirsute Harry donned his Blues and Royals officer's uniform for a Remembrance Sunday service at the Cenotaph in central London – but his failure to present a fresh face has drawn a strong reaction from some.
READ MORE: Queen should give her offshore cash to Grenfell residents, Kensington Labour MP says
A serving member in the elite cavalry regiment told the Daily Mail: "Prince Harry is letting us all down. There's no place for beards in the Queen's cavalry. He should have shaved it off for such an important day."
The service, held annually to commemorate servicemen who died in Britain's wars, was attended by the Queen, the Colonel-in-chief of the Blues and Royals cavalry regiment, as well as Princes Charles, William, Harry, and Andrew. All with the exception of Afghan war veteran Harry were cleanly shaven.
Armed forces rules forbid all beards except in cases where there is a religious exemption. Sikhs, for instance, cannot cut their hair and so are permitted to keep their beards while in uniform, according to the RAF handbook which is representative of other services apart from the Royal Navy, which allows beards but not mustaches. The manual for the Army Training Regiment also states that personnel are required to shave "everyday regardless of facial hair growth."
READ MORE: ISIS challenges Prince Harry to a fight... 'if he's man enough'
The British Army reportedly relaxed its rules governing facial hair for soldiers serving in Afghanistan. The beard in Afghan culture is seen as a sign of virility and authority, and the loosening of the rules was seen as an effort to blend in with local men.
For some Twitter users, however, the controversy was little more than a storm in a teacup.