'Spiderman' won't save May: Military, media & MPs lash out at Williamson's MoD promotion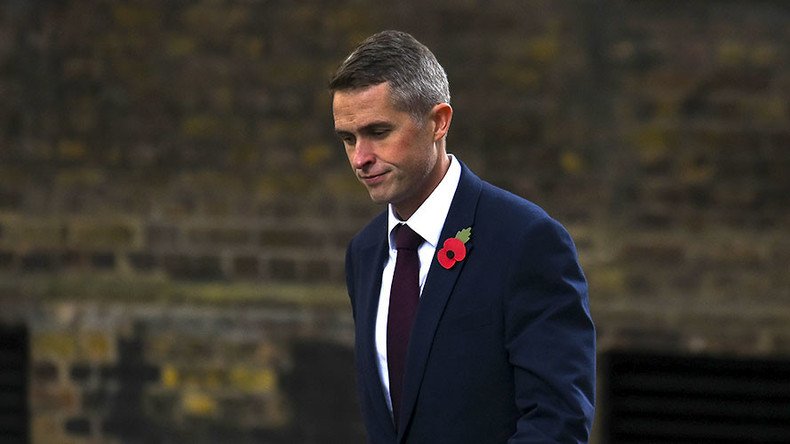 Theresa May is facing a backlash from the military, the media and even her own party after promoting her ally Gavin Williamson to defense secretary, following the resignation of Michael Fallon in the sexual-harassment scandal that is rocking Westminster.
In what is fast becoming yet another nightmare week for the prime minister, May is facing accusations that the new minister is unfit for his new role, and that he only attained the position due to his loyalty to Number 10.
Williamson, 41, has become the youngest-ever defence secretary after replacing Fallon. He has never held a ministerial post and first came to prominence during May's leadership bid. The South Staffordshire MP was instrumental in garnering parliamentary votes for the then home secretary, subsequently being rewarded with promotion to Chief Whip.
Top-brassed off
The promotion of an ally in preference to an experienced minister has given off a strong whiff of nepotism, and has drawn the ire of the British military establishment. Despite having no armed-forces experience, Williamson is set to take the helm of one of Whitehall's biggest departments – overseeing an annual budget of £36 billion ($47 billion) and more than 250,000 soldiers, marines, airmen, sailors and civil servants.
The former head of the British Armed Forces, Richard Dannatt, told The Independent that Williamson's appointment was not the best "from a defense point of view," and added that May made a "heavily political" decision to overlook others in favor of Williamson.
Minister tells me: "She's gone mad. It's real 'end of days' stuff. He's [Williamson] a real slimeball, w/ his own leadership team in place"

— Paul Waugh (@paulwaugh) November 2, 2017
Tory MP Alan Duncan had been an early favorite for the role due to his defense-industry connections. Former Royal Navy lieutenant and now MP for Portsmouth Penny Mordaunt was also tipped for the job.
The appointment comes at a crucial time for the Ministry of Defence (MoD), which is facing an upcoming review and are battling a funding gap of up to £30 billion ($39 billion). Williamson will have an extensive brief that will include ongoing military operations in Iraq, Syria and Afghanistan.
Jealous Tories?
Following the appointment, there has been a spate of complaints from Williamson's fellow Tory MPs. Sarah Wollaston, the MP for Totnes, suggested on Twitter that Williamson should have refused the role. "There are times when offered a job that it would be better to advise that another would be more experienced & suited to the role," she wrote.
Me to a (female) MP; Has Williamson's appointment gone down badly? "You bet your f***king life"

— Beth Rigby (@BethRigby) November 2, 2017
Other senior Tory MPs have been briefing anonymously against May and Williamson, with one telling The Independent: "Gavin is all about making sure Gavin is in a position from which Gavin can become Prime Minister. In this instance he has been judge, jury and executioner to Fallon and he is now also the beneficiary." Further reporting from The Independent noted that unnamed Tory MPs are "livid" and "dispirited" over the appointment.
Murdoch has spoken…
In the usually Tory-backing Rupert-Murdoch-owned press, the appointment has also been widely-criticised. A Times piece was headlined "Who? Shock at MoD's latest recruit Gavin Williamson." A leading article in the paper noted that Williamson's appointment had "drawn attention to her [May's] vulnerability and probably worsened it."
Tory MP: "Gavin Williamson is an oily, greasy ingratiator who is now in a job where his severe limitations will be on display."

— Kevin Schofield (@PolhomeEditor) November 2, 2017
In another Murdoch-owned paper, The Sun, the new defense secretary is called "the spider man," after the pet tarantula Williamson keeps on his desk. Another posited that Williamson has "already started a war" in his own party.
Alan Partridge of Whitehall
When he wasn't working in the whip's office, keeping naughty Tories in check, the new minister was an avid user of Instagram. His activity on the photo-sharing app has been widely mocked, with the MPs posts drawing unfavorable comparisons with the fictional character Alan Partridge, played by Steve Coogan.
One caption, posted beside a picture of Williamson and a companion holding a golf club, reads: "This picture is taken to imply I am about to play a round of golf but it is a lie as I discovered I have no golfing ability whatsoever."
Another, which could have been lifted straight from Alan Partridge, reads: "In many ways when I look at my #landrover I think it epitomises everything that is so fantastic about #greatbritain a go anywhere do anything attitude. Let's never forget how amazing this country is, never letting anything hold us back."
Others have compared Williamson to the murderous protagonist in the original British series House of Cards, Francis Urquhart, who engineers his way from Chief Whip to No 10, a lofty ambition which Williamson is said to share.
You can share this story on social media: