Chair force one! Tarantula-loving civilian replaces Fallon in UK's top defense job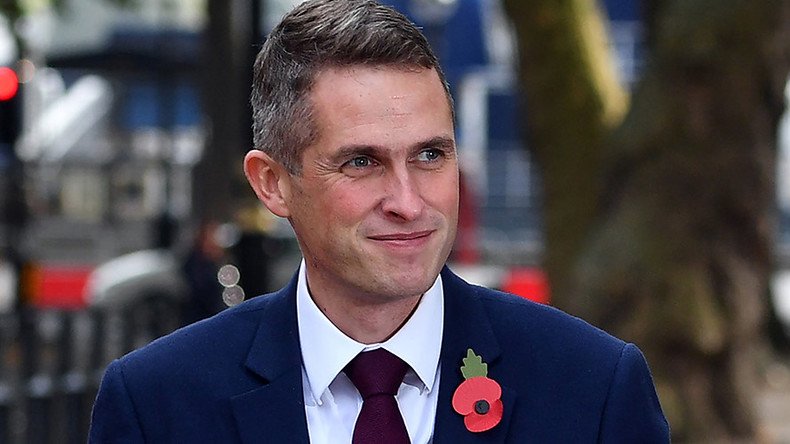 What's a job the totally unqualified? UK defence secretary, apparently. A former businessman who keeps a pet spider on his desk, once built a home for hedgehogs and has a thing for pottery has been hired just as the MoD has run out of cash.
The financial black hole looming over Britain's military is estimated to hit £30 billion (US$39 billion). One of the toughest decades ever lies ahead for the military, with the austerity ax falling on equipment, services and troop numbers.
It is not currently known whether former chief whip Gavin Williamson has seen 'Saving Private Ryan', or indeed any war films. Since he hasn't got any actual military experience, it might be a good place to start.
About the closest he has come to military precision since entering parliament is being charged with administering discipline as chief whip. Judging by the scandal-rocked party, he didn't exactly have MPs standing to attention. Not in the way you'd expect, anyway.
Williamson, 41, was born near Scarborough and had Labour-voting parents. He studied at the University of Bradford, where he majored in social sciences, before moving on to the local council and bagging himself a job in the pottery industry in Staffordshire.
A respectable enough history, of course, but quite whether a man more familiar with a kiln than an AK47 is the man for this job is another story entirely.
Williamson, a rising star in the Tory party, has been dubbed the "baby-faced assassin" for his youthfulness and penchant for cracking the whip. Quite how his killer instincts and apparent no-nonsense approach will play out once he gets his hands on the levers of war and peace, we're about to find out.
Prime Minister Theresa May made the decision after Sir Michael Fallon stood down in the wake of the Westminster sex scandal.
Fallon's knee-jerk reaction came after it emerged he'd touched a journalist's leg. She told him to stop and threatened to punch him in the nose. Yet, the veteran politician, who has clearly never spent a Friday night in a mess hall, claimed he had "fallen short" of the standards expected by the UK military. Tell that to the lads on the frontline. That said, Fallon also took the job without any military experience.
Now, his replacement, who is a patron of the World Owl Trust and proud owner of a tarantula named Cronus, is about to be landed in one of the toughest portfolios in government.
As part of his role, Williamson will oversee airstrikes on Islamic State (IS, formerly ISIS/ISIL) targets in the Middle East. With a background in business and a penchant for pottery, Williamson is not likely to have had such pressure on his shoulders before.
Army officials have complained about the government making decisions over their heads, insisting finances should be done in-house, as the debt bill spirals. Perhaps it is time to draw up a few "do not touch" signs for those big red buttons in the Tory defense bunker.
"We take a carrot and stick approach," is his favorite refrain.
"Personally I don't much like the stick, but it is amazing what can be achieved with a sharpened carrot." How this will translate into defense policy, goodness only knows.
You can share this story on social media: