Can Farage save Brexit? Ex-UKIP boss demands meeting with EU negotiator Barnier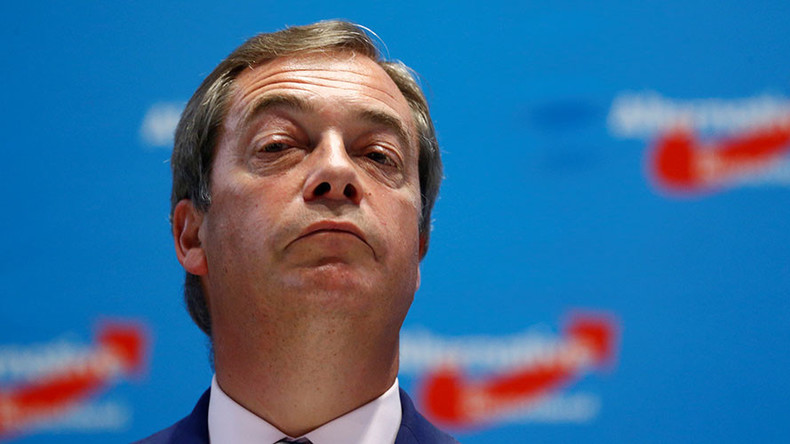 Former UKIP leader Nigel Farage is demanding a meeting with the EU's chief Brexit negotiator Michel Barnier to thrash out the terms of Britain's withdrawal from the bloc. He accused Barnier of attempting to "divide and rule" by persistently meeting with Remainers.
Speaking on his LBC radio program on Monday, Farage said: "I've had enough of this never-ending stream of Europhiles going to see the man who is tasked with negotiating Brexit."
Farage pledged to take matters into his own hands after Barnier and EU Commissioner Pierre Moscovici met with a string of arch-Remainers, including former deputy prime minister Nick Clegg,
Tory MP Ken Clarke and Labour MP Andrew Adonis.
When a journalist asked Clegg on his way to the meeting if their intention was to halt Brexit, Clegg replied: "If only it were that easy. We are here to get a better understanding of what is going on."
In a letter to Barnier, Farage called for a one-on-one meeting in Brussels. "I will come to speak for the 17.4 million who did not vote for a transition deal or any further delays and whose resolve is getting stronger," the letter read.
Farage accused Barnier of only "listening to a group of people who want to stop or delay Brexit." He went on to suggest that any of the discussions Barnier had with the Remainers are not official insofar as the parties in question are no longer part of the government.
"But, it's amazing, isn't it? We've been told all of these meetings were requested by the people who were coming to see Monsieur Barnier … his door is always open. Do you know what? I've had enough of him trying to divide and rule our country.
"It started off with the [Scottish National Party (SNP)]. It started off with the leader of the Welsh Assembly. It started off with [Labour leader Jeremy] Corbyn, and now anyone that wants to stop or halt Brexit is welcome to go in and see Barnier!"
Farage also accused the chief negotiator of "colluding" with people attempting to undermine Brexit. "I think there is collusion afoot, genuine collusion afoot between the people who support staying in the European Union and Monsieur Barnier, I genuinely do," he said.
You can share this story on social media: