LBC radio urged to sack Nigel Farage for making 'false statements'
Former UKIP leader Nigel Farage could lose his LBC radio show as the broadcaster faces fresh calls to sack the Brexiteer MEP over statements he made on-air.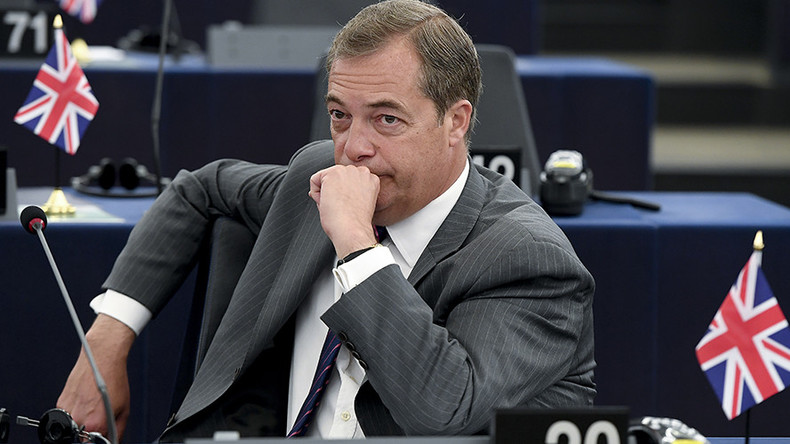 Leading Britain's Conversation (LBC) is under growing pressure after Farage allegedly made a series of untrue statements during his program, The Nigel Farage Show.
In a live video stream from the studio, Farage held up a piece of paper misquoting Article 50 of the Treaty of European Union (TEU), the legal provision that will govern the UK's withdrawal from the EU.
The quote Farage used was in fact a passage from a separate EU guidance on Article 50.
The misquote caused outrage on social media, with LBC listeners accusing the host of distorting information to push his anti-EU agenda.
Even some of Farage's colleagues at LBC railed against him. Fellow LBC host James O'Brien retweeted a post that said: "Why LBC would [give Farage a] platform is beyond understanding."
Anonymous sources at the radio station, quoted by the Business Insider (BI) UK, said they are worried that Farage may "damage our journalistic brand," as they fear that he may be the next Katie Hopkins.
Daily Mail columnist Hopkins was ousted from LBC at the end of May after calling for a "final solution" in a tweet in the immediate aftermath of the Manchester Arena bombing.
However, senior LBC management believe the flow of controversies surrounding Farage is a "price worth paying."
Defending himself, Farage told BI: "What I held up was the official guidance notes on Article 50 given to me by the European Commission."
"Article 50 are the five points of Article 50 but obviously the legal guidance behind them is fairly fundamental."
LBC was nevertheless compelled to issue a "clarification," effectively retracting Farage's remarks.
The broadcaster also deleted a video trailer for Farage's show, as LBC staff discovered the audio contained another mistake.
The BI reports that the trailer included a quote by Farage in which he miscounts the number of the Scottish National Party (SNP) MPs in Westminster.
You can share this story on social media: