'Insulting to the British people' – Russian ambassador slams probe into alleged Brexit interference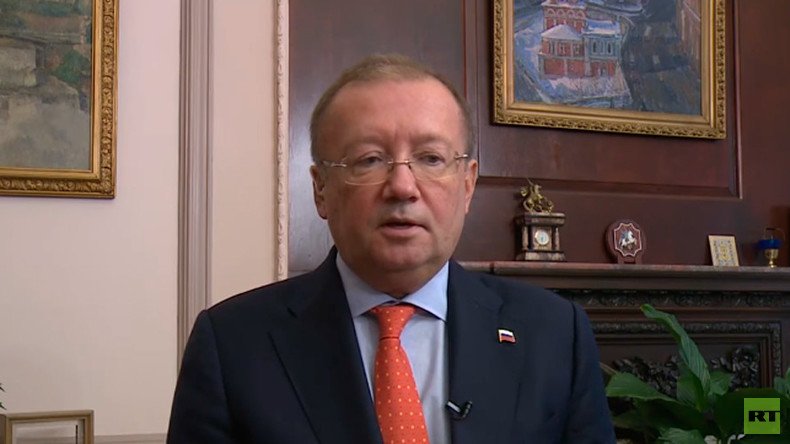 Russian Ambassador to the UK Alexander Yakovenko has expressed surprise at a probe being launched into Moscow's alleged influence in the Brexit vote. He told RT it was "outright insulting for the British government and the British people" to suggest Russia interfered.
The ambassador suggested that due to the difficulties surrounding Brexit it was becoming easy to blame Russian interference, though he wondered "which side" the accusations would say his country supported.
The UK Parliament's Digital, Culture, Media and Sport Select Committee recently announced that it had contacted Facebook CEO Mark Zuckerberg to request information on Facebook pages and advertising carried out by Russian-linked accounts in the months leading up to the 2016 referendum and this year's general election.
Yakovenko dismissed the potential findings of the investigation, quoting US President Ronald Reagan and asking "where is the beef?" He added that "there will be some allegations but no facts, this will be the outcome."
Yakovenko also rejected the accusations of Russian interference in other elections, namely the presidential votes in the US in 2016 and in France this year, as also being groundless. "This is quite convenient to make Russia some kind of scapegoat for everything that's going wrong," he added.
READ MORE: Revealed: How Twitter pushed RT to spend big on 2016 US election
The ambassador's comments follow Twitter banning RT and Sputnik from advertising on their site, justifying the ban due to the news outlets' supposed attempts "to interfere with the election on behalf of the Russian government."
You can share this story on social media: