Why did top Tories share platform with Hindu nationalist who wants Muslim birth-rate controls?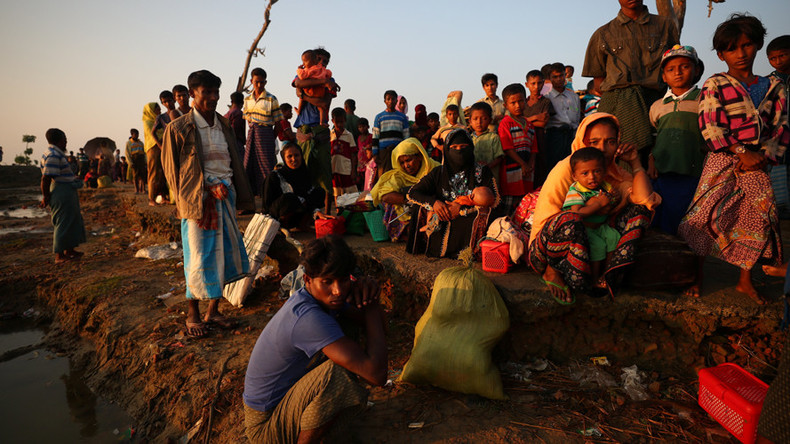 British government figures appeared alongside a Hindu nationalist who has a history of anti-Islamic rhetoric. His views include calling on the UN to control Muslim birth rates and blaming the Rohingya for the Myanmar crisis.
Tapan Ghosh, a member of the Indian far-right Hindu Samhati party, spoke at an event titled 'Tolerating the Intolerant' hosted by Tory MP Bob Blackman in a House of Commons committee room on October 18.
During his keynote speech, Ghosh told the audience: "I see that you are very much worried about the issue of grooming. That means your wives, your daughters are threatened. But in our country our land is threatened, our very existence is threatened," in reference to the UK's recent Asian grooming gang scandal.
Blackman defended Ghosh's appearance at the event, insisting the Indian politician was invited by the National Council of Hindu Temples (UK) and not by him.
"I believe passionately in free speech and giving people the opportunity to challenge those views if they wish," the MP said. "I don't endorse his views."
Ghosh has a history of attacking Muslims on Twitter, previously writing: "We deplore the UN's rights body. Why it doesn't try to control the birth rate of Muslims world over? Why it doesn't try to reduce Muslim fanaticism?"
"Backwardness is the most powerful 'weapon' of Islam. Rohingyas are glaring example."
He also tweeted: "Shame on Rohingya men. Shame on Islam. Seeing this reproduction rate, how can we blame the Myanmar Buddhists for driving them out?"
The persecution of the Rohingya has been labeled by the UN as a "textbook example of ethnic cleansing." Around 340,000 Rohingya children are residing in squalid conditions in Bangladeshi camps, according to UNICEF, lacking food, water, and healthcare. In total, an estimated 600,000 Rohingya refugees have fled Myanmar's northwestern Rakhine state since the latest round of state violence against them began.
Following his appearance with Blackman, Ghosh attended an event celebrating Diwali in the Houses of Parliament. Also present were Home Secretary Amber Rudd, Cabinet Office Secretary Damian Green, and Communities Secretary Sajid Javid. Labour Party backbench MP Paul Scully was also there.
Several days later, Ghosh was pictured with Tommy Robinson, the founder of the far-right English Defence League, at a meeting "on demography and global resistance against Islamic violence and aggression," according to reports in the Middle East Eye.