10% of Lords claim thousands in expenses… without doing any work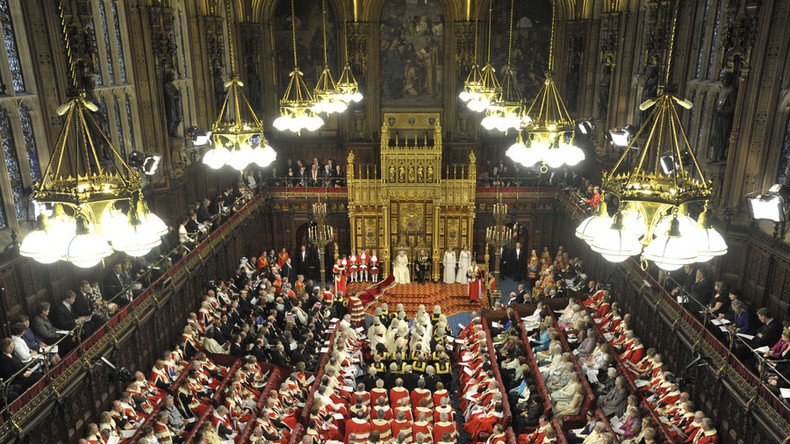 The House of Lords is at the center of yet another expenses scandal. One in 10 peers has been found to be claiming hundreds of thousands of pounds in taxpayer-funded expenses for doing absolutely nothing.
Peers have been accused of 'gaming the system' after analysis by the Electoral Reform Society (ERS) revealed that of the 799 Lords warming the red-leather benches, as many as 73 failed to submit any questions or take part in any debates during the year 2016-2017. A total of 16 'silent peers' then claimed up to £400,000 ($530,000) in expenses and daily allowances.
"The fact that nearly one in ten peers are failing to contribute to the work of the House is bad enough. But it leaves a nasty taste when a significant chunk of those are claiming more than the average worker takes home in a year," said Darren Hughes, chief executive of ERS.
"While many peers do work hard, it does our democracy a huge disservice when dozens of unelected peers are taking advantage of the lack of scrutiny, and appear to be gaming the system."
Among those found to be abusing the system were Labour's Lord Kirkhill, who claimed the highest amount at £43,896 ($58,122), followed by Scottish Labour's Baroness Adams, who claimed £41,287 ($54,674), according to the research.
"To the public - and indeed to some Lords - the upper chamber has become simply a members' club, rather than an essential revising chamber. This is no fit state for the mother of all parliaments. Voters are sick of scandal after scandal – ones which stem from a total lack of accountability."

The figures have prompted calls for an overhaul of the system to move away from a 'couch-potato-peers' approach, by which Lords are not paid a salary but can claim up to £300 for just sitting in the chamber. The revised upper chamber would instead constitute a smaller group of paid peers.
A spokesperson for Prime Minister Theresa May said that dealing with expenses is a matter for the House of Lords, but added: "It is right that peers report their contribution and that their expenses and activities are under scrutiny."
A House of Lords spokesperson defended the chamber and said: "One of the principal functions of the House of Lords is to scrutinize and improve legislation. Members do that by voting, sometimes late at night.
"Voting is a key role of a legislator in any parliament. In recent years, votes in the House of Lords have asked the Government think again on issues likes cuts to tax credits, stopping adults from smoking in cars with children present and taking more unaccompanied child refugees fleeing war zones.
"These changes made a real difference to some of the most vulnerable people in society," they added.
You can share this story on social media: