Distorting history? Cambridge to 'decolonize' syllabus, teach more black & minority literature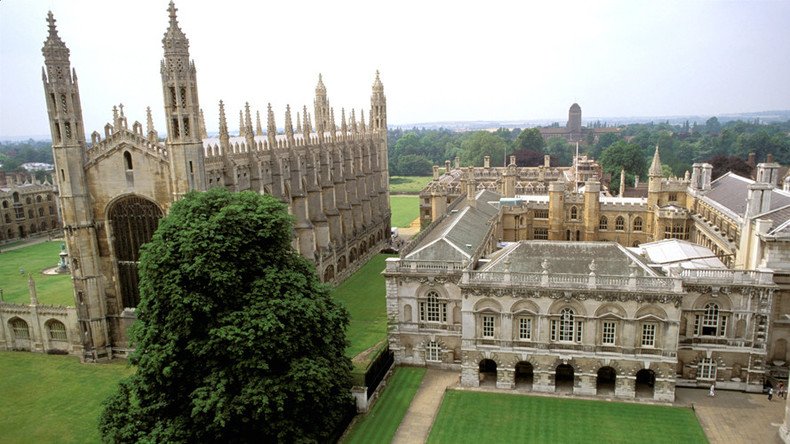 Lecturers have been told to include more black and ethnic minority authors in the Cambridge University English curriculum, after students complained of "institutional racism." Critics say excluding "old white male" authors will distort "historical truth."
The debate was instigated by Lola Olufemi, a women's officer for the Cambridge University Students' Union, who wrote an open letter, co-signed by around 150 other students, asking for the curriculum to be "decolonized" and broadened to include Black and Minority Ethnic (BME) authors.
"For too long, teaching English at Cambridge has encouraged a 'traditional' and 'canonical' approach that elevates white male authors at the expense of all others. What we can no longer ignore, however, is the fact that the curriculum, taken as a whole, risks perpetuating institutional racism," the letter states.
While Olufemi made no mention of actively excluding white male writers, the constraints of the course would mean that inclusion of new material by BME authors would inevitably mean the omission of existing texts.
The letter was discussed by the Cambridge English Faculty's Teaching Forum, which decided to encourage academic staff to actively promote the reading of BME texts to their students, the Telegraph reports.
The decision has scandalized Britain's establishment press. Both the Daily Mail and the Telegraph claimed academics will be "forced" to comply with the move.
Not all lecturers back the move either. Emeritus Professor Gill Evans complained the proposal would "distort" the curriculum. "[If you] lose sight of the historical truth that the West explored the world from the sixteenth century and took control – colonially or otherwise – of a very large part of it. It is false to pretend that never happened," she told the Telegraph.
Other academics welcomed the move.
"Currently teaching of BME topics is largely restricted to the contemporary papers. In my view, such texts and topics need to be integrated much earlier and much more centrally," said Priyamvada Gopa, a member of the forum.
In a statement, the University of Cambridge reaffirmed its support for the campaign. "Academic discussions are at a very early stage to look at how postcolonial literature is taught," it said, noting that "changes will not lead any author being dropped in favor of others."
"We condemn the related harassment directed towards our students on social media as a result of the recent coverage," the university added.
First and second year students study English literature from 1300 to 1550, while choosing a second period of focus including present day literature. Students are also permitted to take papers from Anglo-Saxon, Norse and Celtic, Classics, or Modern and Medieval Languages for study.
The move follows widespread criticism of the university's illustrious rival, Oxford, after one in three of the institution's colleges failed to admit a single black A-level student in 2015. Labour MP David Lammy condemned the university for perpetuating "social apartheid."
The data was the first of its kind released by Oxford since 2010. Cambridge released similar data, which revealed that six of its colleges failed to admit any black A-level students over the same time period.
You can share this story on social media: