Oxbridge admissions create 'social apartheid, reinforcing entrenched privilege' – MP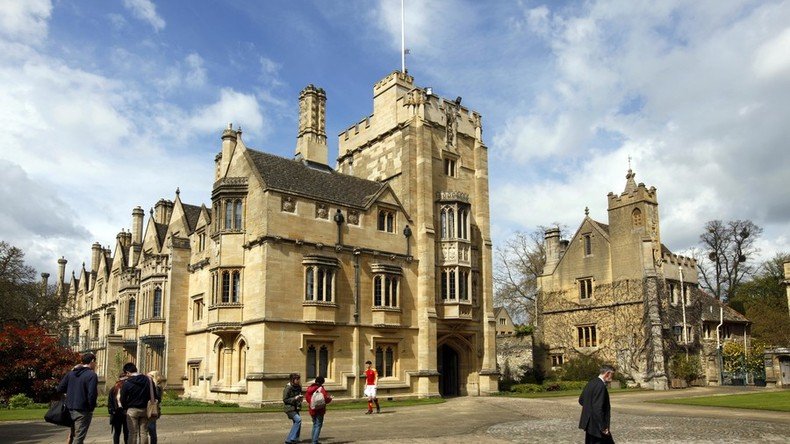 Britain's elite universities perpetuate a "social apartheid" in Britain, Labour MP David Lammy has said, as new figures reveal the majority of entrants to Oxford and Cambridge between 2010 and 2015 came from a "small privileged minority."
The new intake at Britain's top two universities were overwhelmingly from the affluent south of England, brought up in the top two social classes, and from non-black communities.
The figures, secured by Lammy under freedom of information laws in a bid to "get a grip on the reality of access" to Oxbridge, show the universities are merely "reinforcing entrenched privilege" through their elitist vetting of applications.
The data revealed Cambridge University made more offers to students from four of the Home Counties, namely Hertfordshire, Surrey, Kent and Oxfordshire, than the whole of the north of England between 2010 to 2015.
It also found that half of the students from both institutions were drawn from London and the southeast, compared to 11 percent of applicants from the Midlands and 15 from the north of the country.
Lammy wrote in the Guardian: "At Cambridge, applicants from eight areas in the south of England received almost 5,000 offers, whereas students in eight local authority areas across the Midlands, the north and Wales received just eight."
Moreover, 13 out of 38 Oxford University colleges failed to make a single offer to a black A-level applicant each year between 2010 and 2015.
The former universities minister called on the prestigious higher education institutions to give lower-grade offers to students from a working-class background to bridge the attainment gap.
Lammy pointed out that someone from a lower-class background who achieves three A grades – the current requirement to make it into Oxbridge – will be less likely to be admitted than someone from a public school with the same grades.
"The underprivileged kid from a state school in Sunderland who gets straight As is almost certainly more talented than their contemporary with the same grades at a top public school – they far outshine their peers and would benefit most from an Oxbridge education," he said.
Oxbridge should encourage talented students to apply for a place at the universities, the MP for Tottenham said, as well as provide foundation years for those under-represented in society.
Lammy also called for an overhaul of the admission criteria along the lines of the US Ivy League, which takes social background into consideration.
You can share this story on social media: