Brexit means... NAFTA? UK could leave EU trade alliance & join North American one instead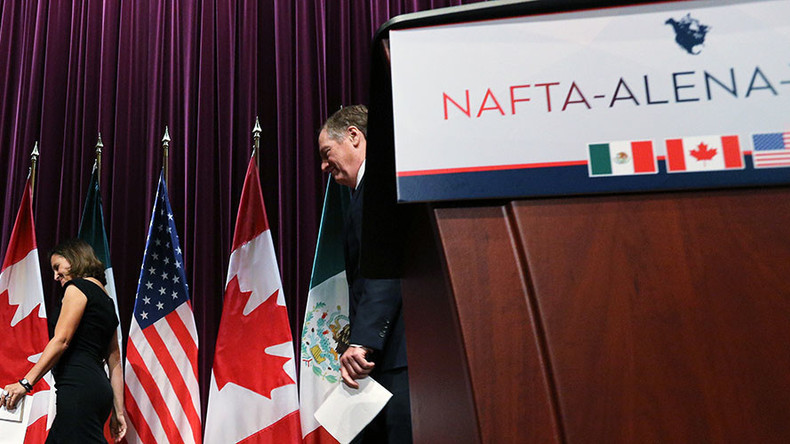 Britain could join a trade alliance with the United States, Mexico and Canada if it crashes out of the European Union without a deal, it has emerged.
According to reports in the Daily Telegraph, government ministers are looking to join the North American Free Trade Agreement (NAFTA) if the UK and the EU fail to reach an agreement on the UK's withdrawal from the bloc by March 2019.
If Britain joins the alliance, it would be able to broker trade deals with three of the world's major powerhouses, which together have a gross domestic product (GDP) of £17.2 trillion ($22.7 trillion). The EU's GDP stands at £15.7 trillion.
Joining, however, would entail the UK, currently the world's fifth largest economy, being subjected to the North American model for services, goods, competition policy and data protection, according to Reuters.
It comes just after Prime Minister Theresa May said the UK must be prepared for a "no deal."
The government on Monday published two white papers outlining Britain's first ever contingency plans in case the EU fails to thrash out suitable terms for Britain's exit.
"While I believe it is profoundly in all our interests for the negotiations to succeed, it is also our responsibility as a Government to prepare for every eventuality, so that is exactly what we are doing," May told MPs.
"These white papers also support that work, including setting out steps to minimize disruption for businesses and travellers."
The papers include plans for in-land lorry parks to be built for new lengthy custom reviews occurring post-Brexit, so as to avoid traffic jams in ports.
A bill would also ensure "the UK can charge customs duty on goods (including on goods imported from the EU)."