Hate crimes targeting British mosques more than double in a year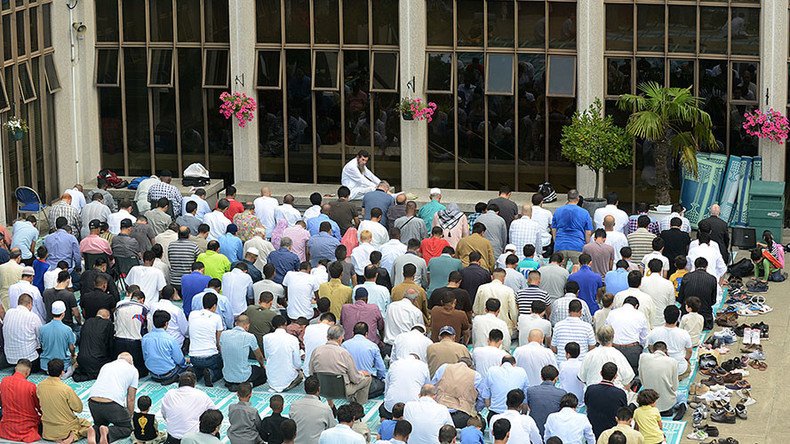 Hate crimes targeting mosques have more than doubled in the last year. Incidents have included offensive graffiti, bacon left on door handles, violent assaults on worshippers, bomb threats and arson, according to a Press Association investigation.
The investigation revealed that British police forces recorded 110 hate crimes directed at Muslim places of worship between March and July this year, up from 47 over the same period in 2016.
Racist abuse directed at worshippers and threats to "bomb the mosque" were among the most common forms of crime. Offenders also often smashed windows of either the mosques themselves or cars parked outside.
Physical assaults on Muslims, two cases of arson and two complaints of bacon being left on mosque doors were also recorded by police.
Other high-profile cases of hate crime at mosques this year included the Finsbury Park terrorist attack in June, a Manchester mosque destroyed by fire in an arson attack in July and the sending of white powder and bomb threats to three mosques across London also in July.
The true number of hate crimes directed at mosques is likely to be higher due to differences in how police forces record their statistics and the fact that not all forces are included in the figures.
The report, based on data obtained under Freedom of Information requests from 42 police forces across the UK, shows that 25 of them saw an increase in hate crimes while 17 did not.
The biggest increase was seen by Greater Manchester Police. Earlier this year, Islamist extremist Salman Abedi killed 20 people when he detonated a suicide bomb at Manchester Arena.
Shadow Home Secretary Diane Abbott called the figures "deeply troubling."
"Attacks on any religious group or minority are abominable," Abbott told the Press Association, adding that the attacks will be "condemned by all decent people."
Fiyaz Mughal, director of Faith Matters which works to increase community cohesion, told the Independent it was vital to acknowledge that terrorism is behind the "worryingly consistent" level of mosque attacks.
"We have seen a rise in anti-Muslim extremism and far-right activity online, with a very slow, dinosaur approach from social media companies to take off hate, and an utter denial for three or four years that this was their responsibility."
He added: "The biggest driver of anti-Muslim hate is terrorist attacks – the research is very clear here. We need to be honest. Not wanting to acknowledge that terrorism is the biggest driver, and to blame the media instead, is very much an Islamist narrative.
"We have to reduce terrorist attacks in order to reduce fractures in our community."
You can share this story on social media: