Multimillion-pound battle against 'fatbergs' waged under London's streets
Lurking under London's streets is a multimillion-pound problem, and it is pretty disgusting.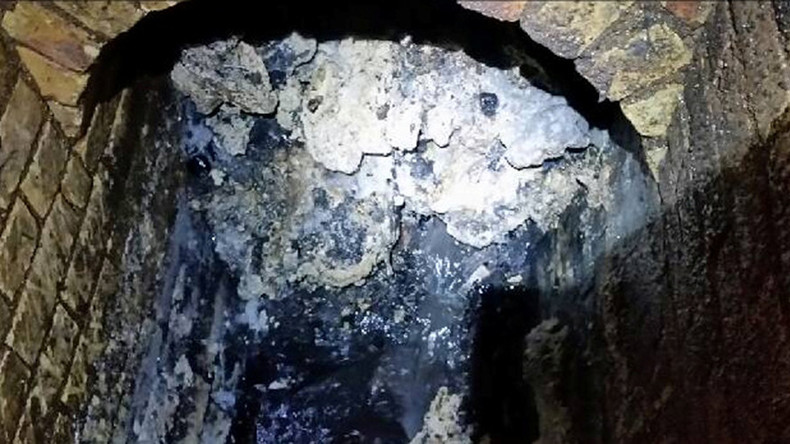 Monster fatbergs – made up of discarded nappies, condoms, sanitary towels, wet wipes and congealed fat – are clogging up the waterways under the British capital.
Thames Water is waging war on the hideous masses, caused by people in the capital refusing to use their bins. But the problem is getting worse as the company shells out £1 million (US$1.3 million) per month to fight fatbergs.
Around five gigantic fatbergs are currently lurking in the capital's sewers. And the problem with Thames Water's "worst enemy" is getting worse.
In east London a 130-tonne grime-filled mass was discovered as the borough has seen a 30 percent rise in sewer problems in 2016-17.
Giant fatbergs are being monitored in trunk sewers in Savoy Street, Lisle Street, Northumberland
Avenue, Whitehall Place and Whitechapel Road.
Call-outs for Thames Water are actually down 7 percent from 2014 to 41,878 year on year. But there are up to 5 percent rises in boroughs on the suburban edges of London.
The fewest blockages were found around the City of London, Kensington and Chelsea, and Westminster, where many buildings are designed for business and not residential use.
The average domestic sewer pipe is about the same diameter as a cricket ball.
Large items such as wipes, nappies, sanitary towels and lumps of solidified fat can easily become stuck.
A 250-meter-long fatberg – more than twice the length of the pitch at Wembley Stadium – was broken down in a massive operation last month.
Crews used water hoses to spray it apart before collecting the pieces to convert into around 10,000 liters of biodiesel.
The mass discovered blocking a sewer under the streets of Whitechapel created enough environmentally-friendly energy to power 350 double-decker Routemaster buses for a day.
"We have a problem with fatbergs, both in sewer networks and at our sewage treatment works," Thames Water network manager Alex Saunders said in a statement.
Previously, we've either extracted the fatberg out of the pipes and sent it to landfill, or broken it down and put it back through the sewage treatment process.
"Even though they are our worst enemy, and we want them dead completely, bringing fatbergs back to life when we do find them in the form of biodiesel is a far better solution for everyone."
You can share this story on social media: