Independence-hungry Scottish nationalist leader sends support to Catalonia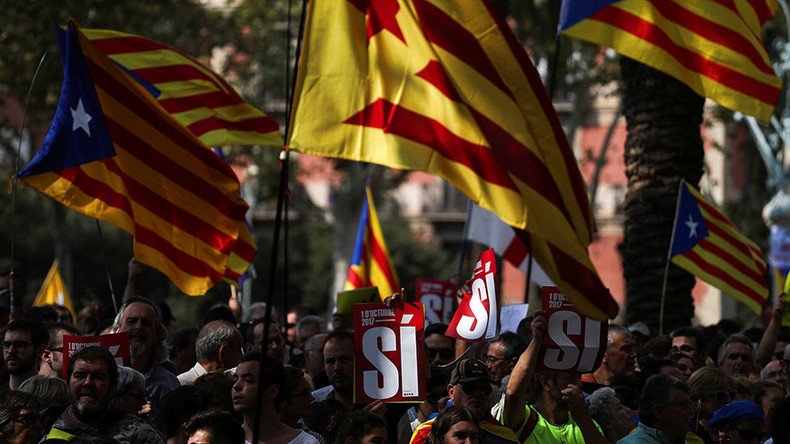 Scottish First Minister Nicola Sturgeon has expressed her solidarity with Catalans fighting for their right to hold an independence referendum, sharing her concern over Spain's attempts to stop it.
Speaking during First Minister's Questions, Sturgeon said she is concerned by reports of Spanish police confiscating ballot papers and raiding newspaper offices. She said the 2014 Scottish independence referendum was the best example for Catalonia to follow.
The pro-independence government of Catalonia plans to hold a vote on October 1, despite Spain's Constitutional Court saying it would be illegal.
"I hope that there will be a dialogue between the Catalan and Spanish governments to try and resolve the situation. That has got to be preferable to the sight of police officers seizing ballot papers and entering newspaper offices," Sturgeon said.
"It is of course entirely legitimate for Spain to oppose independence for Catalonia. But what I think is of concern anywhere is for a state to seek to deny the right of a people to democratically express their will.
"The right of self-determination is an important international principle and I hope very much that it will be respected in Catalonia and everywhere else."
Sturgeon said the Edinburgh Agreement, drawn up by the Scottish and UK governments before the 2014 independence referendum in Scotland, could act as a template for others.
"The Edinburgh Agreement is a shining example of two governments with diametrically opposed views on independence nevertheless coming together to agree a process that allowed the people to decide. I think that offers a template that can be used by others elsewhere in the world."
Pro-independence parties who control the Catalan parliament pushed through the referendum law earlier this month after years of unsuccessfully demanding the right to hold a free vote on self-determination.
Catalonia, a wealthy region of 7.5 million people in north-eastern Spain which has Barcelona as its capital, has its own language and culture but is not recognized as a separate nation by the Spanish state.
In November 2014, a non-binding vote on independence for Catalonia showed 80 percent of people were in favor. A public survey commissioned by the Catalan government in July suggested 49 percent of Catalans oppose independence, while 41 percent are in favor.
You can share this story on social media: