Clashes with police in Catalonia as authorities make arrests in referendum crackdown (VIDEOS)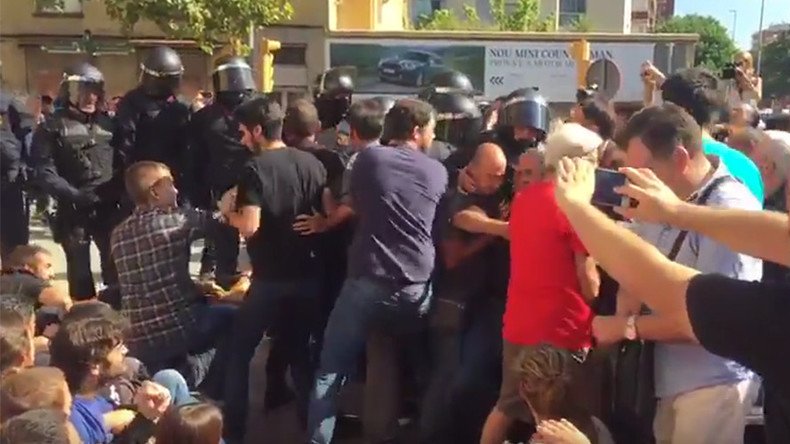 The search of government buildings and arrests in Catalonia, Spain, ahead of an upcoming independence referendum has led to protests in the town of Sabadell. Footage shows demonstrators clashing with police and Civil Guard officers in the streets.
READ MORE: 'State of siege': Catalan officials, incl. junior economy minister, arrested over referendum docs
More than 300 people were in the streets of Sabadell, 20km north of Barcelona, by noon, according to La Vanguardia. Demonstrators blocked authorities from entering a building in town and residents – including several elderly women – poured buckets of water on agents from their balconies.
Protesters also gathered to support Jordi Sánchez, the president of the Catalan National Assembly, shouting "We are with you!"
Sabadell Mayor Màties Serracant also spoke at the protest, saying, "We have made a demonstration of what the people of Catalonia are...we are at the side of the people, with the right to decide," the report says.
Responding to the searches of buildings on Wednesday, the vice-president of the Catalan government, Oriol Junqueras, accused the central government of "attacking the institutions of this country and attacking the citizens," adding that "we will not allow it."
Estan atacant les institucions d'aquest país i per tant atacant els ciutadans. No ho permetrem.

— Oriol Junqueras (@junqueras) September 20, 2017
The demonstration came as police arrested top-ranking Catalonian officials as part of a crackdown by Madrid over the upcoming independence referendum, which the central government has deemed illegal.
Speaking in the Spanish parliament in Madrid, Republican Left of Catalonia (ERC) party deputy Rafael Rufian criticized the ongoing raids, calling on Spanish authorities to "remove your filthy hands from Catalan institutions."
You can share this story on social media: