'We've killed 3,000+ ISIS fighters… and not 1 civilian,' claims British military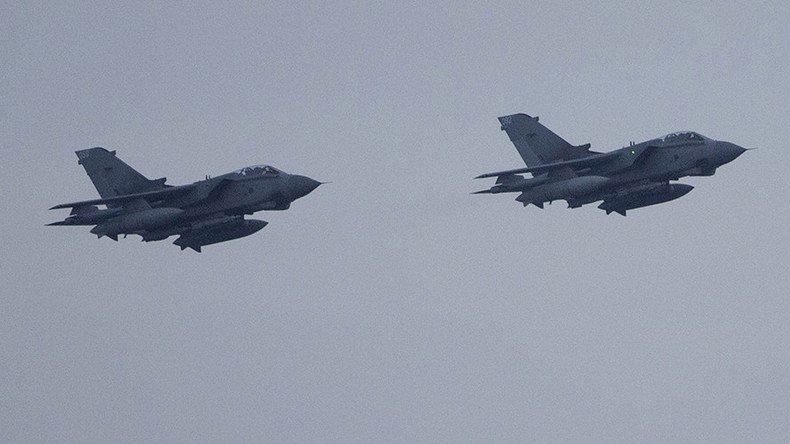 Britain has rained down bombs on Islamic State fighters in Iraq and Syria, killing more than 3,000 since 2014, but not a single civilian, according to Ministry of Defense (MoD) figures. Campaigners say the figure is "statistically impossible."
The MoD claims its Hellfire missiles, launched from Royal Air Force (RAF) drones and fighter jets, killed 2,684 Islamic State (IS, formerly ISIS/ISIL) fighters in Iraq between 2014 and July 2017, and 410 in Syria since 2015.
At the same time, the MoD said there is "no credible evidence" even one civilian has been killed by accident.
"That isn't the same as saying we have not or will not do so," the MoD told the Press Association.
The number of bombs dropped by drones alone is unclear, although some reports suggest an RAF Reaper, which costs £155 million (US$209 million), was used in just one explosive mission in a whole year.
In the first 100 days of 2017, the RAF deployed 216 bombs and missiles against IS, according to the BBC.
The MoD has rejected evidence of civilian casualties. Campaigners have called the MoD's figures "statistically impossible."
Monitoring group Airwars said there is no way innocent people have not been harmed.
"Air strikes by all parties remain the primary cause of civilian harm in Iraq and Syria," said the group's director, Chris Woods.
"The US, for example, has conceded around one [civilian] death for every 40 of its anti-IS strikes."
According to US figures, 484 civilians have died as a result of coalition airstrikes, after an admission in June.
The defeat of IS in many of the group's major urban strongholds has sent jihadists scrambling into the desert – many foreigners among them hoping to return to their homes in Europe.
Although Mosul has been liberated, pockets of those affiliated to IS leader Abu Bakr Al-Baghdadi remain.
Airstrikes are currently being used to dislodge the group in Raqqa.
On Wednesday, the MoD released footage of a drone strike in May, in which an IS sniper was targeted with a Hellfire. Civilians can be seen fleeing the scene.
"Given the ruthless and inhuman behavior of our adversary, including the deliberate use of human shields, we must accept that the risk of inadvertent civilian casualties is ever present," an MoD spokesman told PA.
You can share this story on social media: