UK military shows off footage of drone strike on ISIS that caused 'civilian injuries' (VIDEO)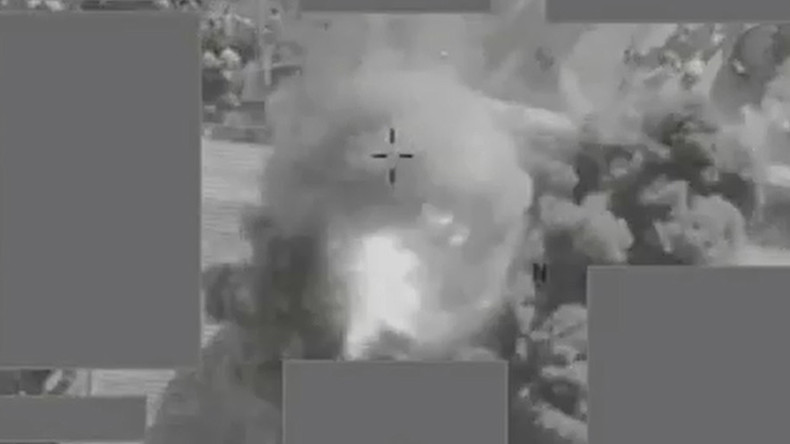 Footage has emerged showing a controversial British drone strike on a sniper in Syria last May.
The British military claimed the attack prevented a public execution, but monitors on the ground say civilians were injured.
The Islamic State (IS, formerly ISIS/ISIL) gunman was patrolling a rooftop in the Syrian town of Abu Kamal when the Reaper drone, operated by pilots 2,000 miles away at RAF Waddington in Lincolnshire, struck by firing a single Hellfire missile.
At the time of the attack, Syrian civilians were being forced at gunpoint into a nearby town square to watch two prisoners being executed. Many were caught up in the blast.
The UK Ministry of Defence (MoD) celebrated the strike, releasing the drone footage for the first time on Tuesday.
The drones, which are astronomically expensive, are rarely used in combat. When they are used, civilians are often hurt.
The missile was launched after a routine fly-by spotted two prisoners being unloaded from a truck.
The Royal Air Force (RAF) mission was overseen from the Combined Air Operations Center (CAOC) at Al Udeid airbase in Qatar, which revealed the footage.
"The individual who we engaged was a sniper in overwatch to shoot civilians who sought to move away from the execution, let alone to protect the planned execution itself," Air Commodore Johnny Stringer, commander of all UK air operations in Iraq and Syria, told the Daily Mail.
"That particular example for us very much brought it home because civilians had been herded in, forced literally at gunpoint, to go and watch this going on in their hundreds."
Such drone strikes have won high praise among military figures. There are plans to increase spending on the technology.
However, their use has drawn huge controversy.
Monitoring group AirWars said it had received reports from the Syrian Observatory for Human Rights that the strike may have also injured up to 20 civilians.
The Observatory said "the bombing killed at least three members of the organization [IS] and injured about 20 other people mostly civilians."
In April 2016, the MoD claimed up to 1,000 jihadists had been killed in drone strikes – and not a single civilian.
According to figures collated by AirWars, between August 2014 and early 2016, 1,172 civilians were killed.
Months later, in October, the MoD confirmed an RAF Reaper was involved in an "accidental" attack on Syrian Army vehicles in which 60 soldiers were killed.
The Reapers, which cost £155 million (US$210 million) and millions more in upkeep, have also been criticized because they are so rarely used.
One drone made 271 missions over IS territory in 2014 and 2015, but only fired once, it was claimed in 2016.