10 Lords a-sleeping: Fury as lazy Westminster peers claim millions just for turning up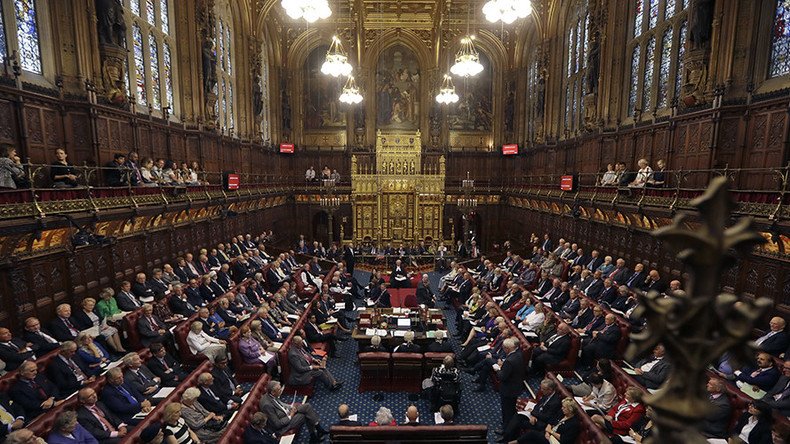 There's no such thing as a free lunch, unless you're a peer in the House of Lords, in which case there's also free air travel, train fares, taxi rides and a whole lot of taxpayer-funded perks for… well, nothing.
For years angry Britons have endured reports of wealthy, unelected Lords claiming for things they can well afford.
Yet a new report has added strength to the already bloated case for abolishing the second chamber, after it revealed millions of pounds are being paid in expenses, while Lords barely do their jobs.
In fact, one in seven Lords did not speak at all during the 2016/17 session, yet claimed £1.3 million (US$1.75 million) just for attending debates.
On top of their daily fee, the 798 peers, some of whom have been filmed using sessions to snooze, are entitled to claim travel expenses when on "parliamentary business."
The Electoral Reform Society (ERS) found £7.3 million was claimed by nearly half the house, who made fewer than 10 contributions, and 277 members pocketed £4 million despite speaking five times or fewer.
Current rules of the house mean members are not salaried, but can claim £300 for sitting days, as well as costs.
Reformers and campaigners have labeled those who claim without contributing "couch-potato peers" wallowing in a "something-for-nothing culture."
"These figures are a damning indictment of the state of the House of Lords," said Electoral Reform Society Chief Executive Darren Hughes in a press release.
"There appears to be a growing 'something for nothing' culture in our upper house, with tidy sums being claimed by those who barely contribute.
"And there are a worrying number of couch-potato peers and lobby-fodder Lords at a time when there is plenty to scrutinise – ostensibly the upper chamber's role.
"With a 20 percent surge in expenses claims in the past two years, this is a House that is spiralling out of control.
"Rather than spending immense sums on peers who fail to even speak up in Parliament, we need a fairly-elected upper House – with a much smaller number of salaried peers – ending the rolling expenses scandal the chamber has become."
A staggering £19.2 million was spent on daily allowance and travel expenses for peers between 2016 and 2017. The average peer took home more in travel expenses in one year than the median UK annual salary for British workers (£22,200).
Hughes labelled the situation a "scandal" and that Britain is dealing with "Lobby fodder Lords" who only turn out to vote and "couch potato peers" who do not turn up at all.
Claimants included steel magnate Lord Paul, who claimed £38,000 in expenses after he spoke twice.
Northern Ireland peer Lord Laird got £48,000 in expenses despite only voting twice.
Anger has been bubbling over the size of the second chamber, which costs the taxpayer millions.
In defense on the red benches, a spokesperson for the Lords said the ERS has narrowed the focus.
"Speaking in the chamber is only one of the ways members hold the Government to account and this research ignores members' contributions including amending legislation, asking the Government written questions and serving on select committees – more than 320 members served on committees in the last session of Parliament – as well as parliamentary work away from the Chamber," the spokesman told the Independent.
"It is inaccurate to describe a House that tabled 5,608 amendments to legislation, asked Government 7,395 written questions and published 170 Committee reports in 2016-17 as a 'part-time' House."
You can share this story on social media: