Tapestry depicting Native Americans as 'subhuman, war-like savages' shouldn't be exhibited
Published time: 21 Sep, 2017 09:34
Edited time: 22 Sep, 2017 08:33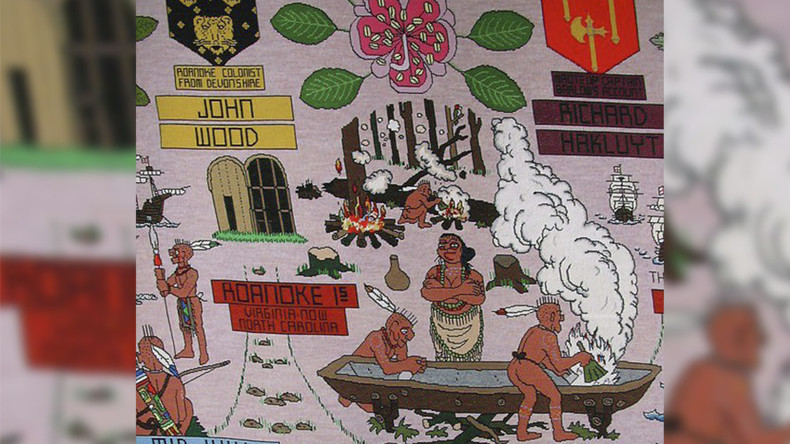 A 267-foot tapestry, depicting the North American colonization during the 16th and 17th centuries, should not be exhibited as it perpetuates a "racist tradition," the National Congress of American Indians (NCAI) has said.
The New World Tapestry, woven together between 1980 and 2000, and which took the labor of 256 volunteers from Devon and Dorset, has been kept in storage at the Bristol City Museum since 2008 because of its large size.
The tapestry also has contributions from the Queen, the Duke of Edinburgh, the Queen Mother and the Prince of Wales.
Jacqueline Pata, executive director of NCAI, said the tapestry should not be showcased as it perpetuates a distorted image of Native Americans.
"It shamelessly perpetuates a centuries-long artistic tradition that seeks to portray Native people as subhuman, warlike savages.
"Unfortunately, too many Americans form their misinformed opinions of Native people based on such inaccurate, harmful depictions of who we supposedly were and are, as somehow 'less than' other Americans.
"It is time for this racist tradition in all of its forms – whether art tapestries or football helmet logos – to end, once and for all," Pata said, according to the Telegraph.
The tapestry's designer, 88-year-old Tom Morr, contested claims of his art being "racist," arguing it is a realistic representation of history. He said the British were "beastly" to the Natives, and he wanted to challenge the assumption that the settlers' arrival came without violence.
"They [colonists] kept on being bumped off, quite reasonably," he said.
"If somebody invaded your territory and wanted to take it, you would fight back.
"What I wanted to avoid was the picture of English people coming ashore from their galleon to the New World as peaceful and quiet. It wasn't so.
"It's no use pretending about it or being shocked by it.
"It's not racist, what's racist about it?" he asked.
The artwork could soon be displayed to mark the 400th anniversary of British settlers setting off from Plymouth for the Americas. For now a project is underway to show digitized pieces of it.