Fury over whitewashing of 'Justice' graffiti for Grenfell Tower fire victims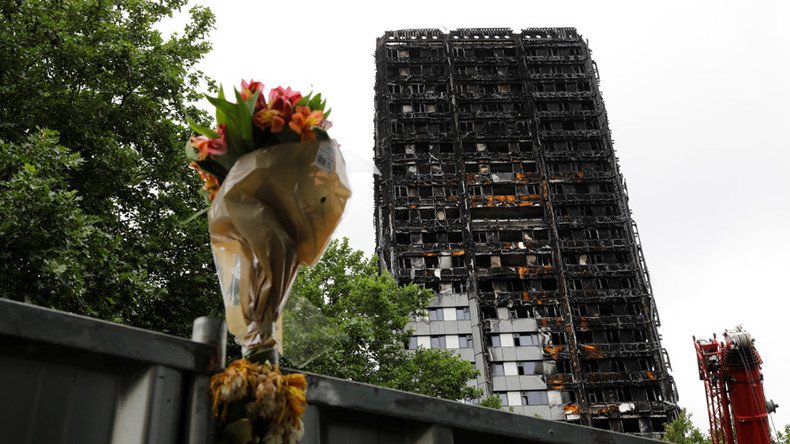 The whitewashing of graffiti commemorating the victims of the Grenfell Tower fire has prompted an outcry among local residents.
The 'Justice' graffiti was the creation of local artist Miguel de Amorim-Gil, 38, also known as 'Flexwon', who spent weeks working on the tribute for the residents of the 24-story block ravaged by flames three months ago.
READ MORE: Grenfell fire, 2 months on: Inquiry begins as hundreds hold silent march for victims
At least 80 people were killed in the blaze that engulfed the tower in North Kensington, west London, on June 14.
Up to 1,000 people signed petitions to keep the street art up, saying it showed genuine solidarity with the people affected by the tragedy.
Speaking to the Independent, de Amorim-Gil, who found the whitewash on Wednesday morning, said: "Someone came sneakily in the early hours of the morning after the Notting Hill Carnival. They left all the other graffiti in the area and they made a point to take this one down."
Emma Daniels, who started one of the online petitions, said the graffiti was a "fitting tribute made by those who care for those that have lost everything."
Speaking after news of the message being painted over, Daniels said: "That space has been used for years by people in the community to express themselves."
"Over 1,000 signatures on a petition to keep it didn't mean a thing to whoever did this.
"Flex spent weeks doing this and hadn't even finished it yet," she added, according to getwestlondon.
The residents initially thought the Royal Borough of Kensington and Chelsea, which has already seen a fierce backlash over its response to the Grenfell fire, was responsible for the whitewashing of the graffiti.
However, the council told Sky News that the wall had been painted over by the owner of the building.
A spokesperson said: "The mural was removed by the owner of the building as it is private property.
"So the council is now working with local artists, specifically graffiti artists, to create permanent murals for Grenfell around the community.
"We also intend to work with schools and building owners to put something the community wants in that same space."
You can share this story on social media: