Theresa May refuses to rule out military and cyberattacks on North Korea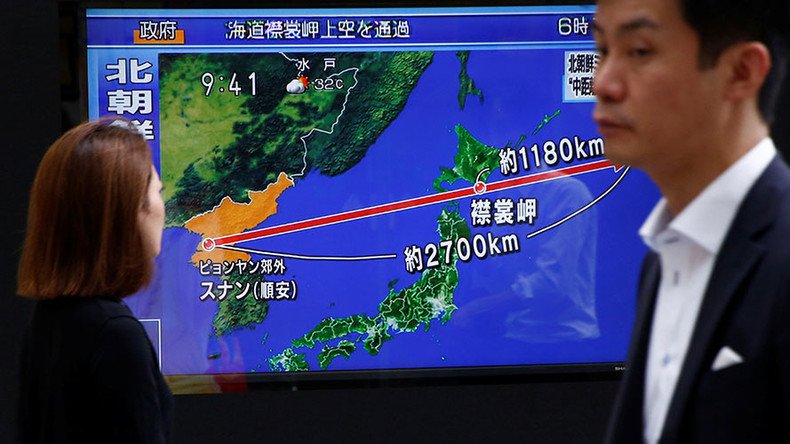 British Prime Minister Theresa May has condemned North Korea's ballistic missile test over Japan and refused to rule out using cyber warfare, or even taking part in military action.
May arrived in Japan on Wednesday morning in the midst of an escalating crisis over Pyongyang's latest missile launch and will have discussions with Prime Minister Shinzo Abe about what can be done.
"We will be redoubling our efforts with our international partners to put pressure on North Korea to stop these illegal activities," May told reporters en route to Tokyo.
She urged China to intervene more vigorously in curbing North Korea's missile ambitions, calling Beijing "the key" to defusing tensions.
"China has, I think, a very key role to play in terms of the pressure it can bring," May said.
"I have said this to President Xi. Others have as well. We think that China has a role to play and we'd encourage China to do everything it can to bring pressure on North Korea to stop this."
During the overnight trip to Tokyo, May declined several times to rule out the possibility of military action or cyber warfare against the rogue state, according to the Telegraph. A Whitehall source even raised the possibility that cyber warfare might already be in use, saying: "If we're doing that, we certainly wouldn't be telling you."
On Tuesday, Pyongyang launched a missile that flew over Japan before landing in the Pacific, triggering the national J-alert system, which tells the Japanese population to take cover.
Abe called the missile launch an "unprecedented" threat to his country, while the UN Security Council unanimously condemned North Korea for its actions. Meeting late on Tuesday in New York, the council called the launch "outrageous" and demanded North Korea cease all missile testing.
North Korea has signaled plans for more launches, however, suggesting its firing of a missile over Japan was "the first step" of military operations in the Pacific.
US President Donald Trump responded by saying that "all options are on the table." He warned that the actions of Kim Jong-un, the North Korean leader, "only increase the regime's isolation."
"This regime has signalled its contempt for its neighbors, for all members of the United Nations and for minimum standards of acceptable international behavior," Trump said in a statement.
Earlier this week, North Korea warned Britain "faces a miserable end" if it takes part in US and South Korean military exercises in the region.
"We solemnly warn not only the US and puppet group, but also satellites, including the UK and Australia, which are taking advantage of the present war maneuvers against the north, that they would face a miserable end if they join in play with fire by tiger moths of war," North Korea's official KCNA news agency said in a statement.
Security and defense had always been a planned element of the trip, with May due to address Japan's National Security Council and visit one of its warships on Thursday.
The planned primary focus of the trip had been trade, with May accompanied by International Trade Secretary Liam Fox and a 15-strong delegation of business leaders, including executives from Aston Martin, Barclays and Atkins.
Speaking ahead of her arrival, May said she wanted to use her talks with Abe to push progress on an ongoing Japan-EU trade agreement.
You can share this story on social media: