UK to lose its marbles? Greek activists seek Brexit blockade to regain 'stolen' Parthenon art
Greece could exploit upcoming Brexit negotiations to take back Parthenon art "stolen" by the British back in the 1800s.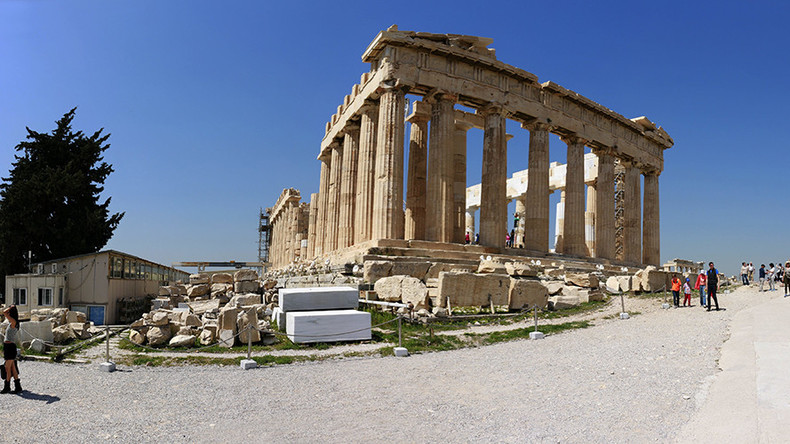 For any Brexit deal to be reached, all 27 EU-member states must give their backing, meaning the long-awaited agreement could be stalled if any nation decides to veto it.
According to a group of Greek activists, their government should take advantage of this situation to regain possession of some of Greece's most-revered art.
"If it can give back India, it can empty one room in London to return these items," Alexis Mantheakis, who co-founded the International Parthenon Sculptures Action Committee (IPSACI), told DW.
Mantheakis said it now all comes down to whether the Greek government is willing to use its position as leverage and make the demands.
"We're hoping the Greek government will do it. It's a unique opportunity," Mantheakis said.
Britain took ownership of the Parthenon Marbles at the turn of the 19th century, thanks to then-British Ambassador to Greece Lord Elgin.
Elgin removed deity statues and up to 50 friezes depicting mythical battles from the once great Athenian temple, which were then loaded on a ship bound for England.
Following public outcry in Britain, including a letter by renowned Romanticist poet Lord Byron, the British Parliament agreed to acquire the art for £35,000 (around US$45,000).
The Greek government has always hoped to regain ownership of the treasured art, also leaving space for the coveted statues in refurbishment plans for the Acropolis Museum.
But all attempts have until now failed, with the British Museum arguing it is "virtually impossible" for the art to be returned to Greece because multiple governments have refused to "acknowledge the trustees' ownership of the Parthenon sculptures in their care."
In a 2015 letter to UNESCO, the world-famous museum argued that its collection is "not only for the British people, but for the benefit of the world public, present and future."
The Greek government has also been called on to bring the case to court by leading human rights lawyers, including Aman Clooney, but Greek authorities said they are "strongly committed" to diplomacy as a means of "resolving the return and reunification of the Parthenon sculptures."
As to using Brexit negotiations as a means to pressure Britain into returning the art, the Ministry of Culture said it merely reflects the will of a few citizens, and it "does not correspond to the official position of the Greek government."
You can share this story on social media: