'Digital blackface'? BBC video says using 'dark-skinned GIFs & emojis' is cultural appropriation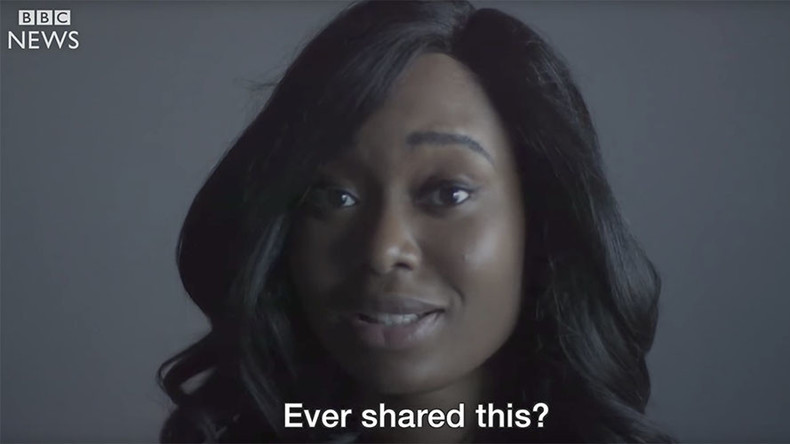 The BBC has produced a video that claims GIFs featuring black people amount to "digital blackface" while white people using dark-skinned emojis are guilty of cultural appropriation.
The video, presented by freelancer Victoria Princewill, who contributes to the Guardian and the Independent, begins with a 'trigger warning' in case viewers find the footage offensive.
Princewill claims the most popular 'reaction GIFs' available on social media platforms are of "black people being dramatic."
She says they are the 21st century version of minstrel shows, which pandered to "mocking, demeaning stereotypes, and exaggerated black people's features and their expressions."
"Black people are not here for other people's entertainment," she says, showing GIFs of black entertainers Michael Jackson, Oprah Winfrey and Rihanna.
Princewill also tackles "white people using dark-skinned emojis."
"This is a form of cultural appropriation, paying little respect to someone's culture and using it however you please," she says, alongside a photograph of a white woman with dreadlocks.
Addressing what is wrong with "white people using these GIFs and using these emojis," Princewill explains: "We're not symbols of excessive emotion, and we aren't here to make you look more sassy, more sexy or more street."
"We don't want to be seen as having two-dimensional personalities. Let us decide for ourselves how we wish to be perceived."
The video ends with Princewill asking for viewers to share their own perspective on the issue.
One of the most 'liked' comments is from Ukonu Obasi, who says: "Oh please, can people stop being offended by every single bleeding thing! Emojis and GIFs… that's the problem of black people? Really?
"She talks about cultural appropriation while wearing a straight hair? Listen, I am a black person, and I don't care what emojis people use or the GIFs they put up.
"I am concerned when people of color are killed, denied access to education, to healthcare, to housing and jobs just because of their skin color. Let's solve those problems and leave all these silliness alone."
You can share this story on social media: