Knifeman detained in suspected terrorist attack near Buckingham Palace, 2 officers hurt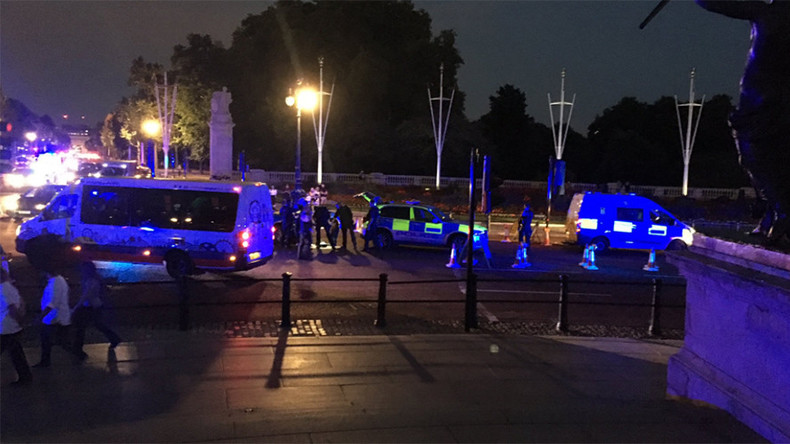 A 26-year-old man has been arrested in London on suspicion of grievous bodily harm and assault on police on the Mall near Buckingham Palace, the Metropolitan Police reported, adding that the case is now being investigated by their counterterrorism division.
"A man in his mid-twenties has been arrested by police after they spotted a weapon inside his car. The quick and brave actions of both officers meant that the suspect was detained very quickly," Detective Superintendent Guy Collings said in a statement.
While the officers were trying to arrest him, they suffered minor injuries to their arms and were treated at the scene by the London Ambulance Service.
The statement added that no other people were affected by the attack, which took place at 20:35 local time. While the investigation is ongoing, the man is also being held under the 2000 Terrorism Act.
"Detectives from the Metropolitan Police's Counter Terrorism Command are now investigating the incident which occurred near Buckingham Palace on the evening of Friday, 25 August," read a further statement from the Met Police.
No others persons have been reported injured following the attack.
Queen Elizabeth was not in residence in the palace when the attack outside the palace happened.
The Telegraph is reporting that the palace was "on lockdown" following the attack, while the police have said it is too early to state whether the incident was terror-related.
The incident occurred just hours after a knife-wielding man was shot and killed in Brussels after attacking a group of soldiers while shouting "Allahu akbar."
READ MORE: Soldiers attacked by knife-wielding man in Brussels, incident treated as 'terrorist act'
You can share this story on social media: