Rock concert canceled in Rotterdam over terrorist threat, Spanish van with gas bottles found near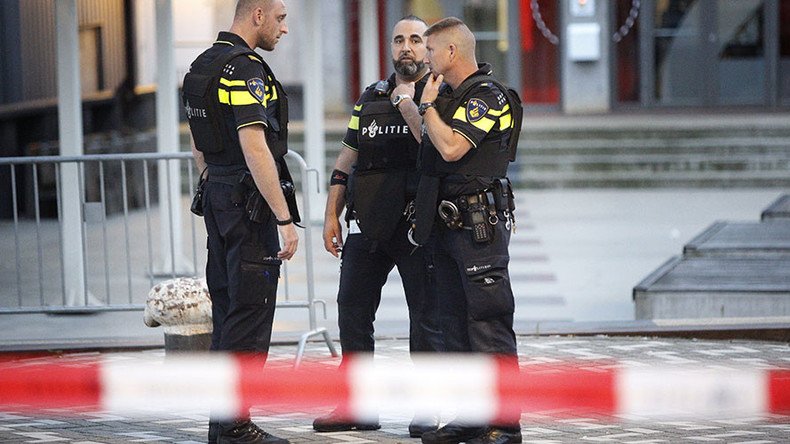 The driver of a van with Spanish license plates and gas canisters inside has been detained in Rotterdam, the mayor's office confirmed. The van was found where the venue where a concert was earlier canceled due to a "terrorist threat."
The mayor, Ahmed Aboutaleb, told a news conference that a vehicle with Spanish license plates and gas bottles was found near the Maassilo venue in the city, where a rock concert due to take place on Wednesday was canceled.
The driver of the van was detained and taken in for questioning. Aboutaleb, however, warned against "swift conclusions" and said that it was not yet clear if the van was really related to the "terrorist threat."
"It would be wrong at this moment to pile up these facts and conclude... there was a plan to attack with gas bottles etc., because that was the picture last week in Barcelona. I would be careful with that," he said, as cited by Reuters.
Police did not mention the nature of the threat, but said their investigation was ongoing.
"Police took this information seriously enough that, after a discussion with the organizers, it was decided to cancel the event,'' the Rotterdam police said in their statement.
The tip-off on the threat came from the Spanish police. A Spanish judicial source told Reuters that the tip resulted from an investigation by the Spanish Civil Guard but said that there was no link between the threat in Rotterdam and two vehicle attacks in Barcelona and Cambrils in Catalonia that left 15 people dead.
In the meantime, the Spanish news agency Europa Press reported that the van driver was indeed a Spanish citizen, but that he had no known links to jihadist terrorism. The agency also added that the gas canisters in his vehicle were apparently for domestic use.
A Californian band called the Allah-Lahs was due to play at the venue. The event was canceled shortly before it should have started. The concert-goers were sent away and the venue was cordoned off, Reuters reports, adding that there were no injuries or any further detentions.
The Allah-Lahs, a four-piece band, told the Guardian newspaper last year that they wanted a "holy sounding" name for their group and didn't think it would offend Muslims. On Wednesday, they were escorted away from Maassilo while armed officers secured the perimeter.
Authorities in Spain, the Netherlands and across Europe are on alert after a series of terrorist attacks in which vehicles have been to plow into innocent bystanders, the latest of which happened in Barcelona last Thursday, in which another van was used to fatally run down 13 people on the popular Las Ramblas street. It's not yet clear whether the van found in Rotterdam is connected to the cell that carried out the Barcelona attack, or any other terrorist group.
You can share this story on social media: