1,000s of Muslims march against terrorism in Barcelona after van attack (PHOTOS)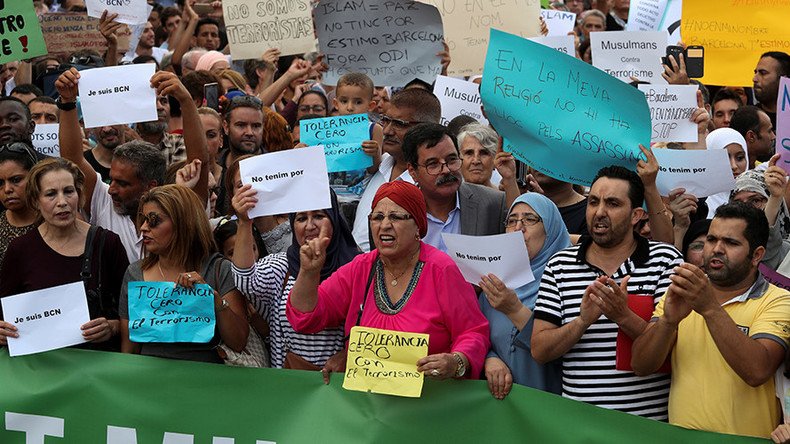 Some 2,500 Muslim demonstrators marched in Barcelona to condemn terrorism. The rally kicked off at the Plaza de Catalunya, close to where a suspected Islamist rammed a van into pedestrians on Las Ramblas, killing 14 and injuring 100 people.
READ MORE: Barcelona attack prime suspect killed, all 12 terrorists dead or in custody - police
Muslim communities of Barcelona gathered on Monday evening at the square to support the victims and condemn Islamist terrorism, El Pais reported.
People from across the city began flocking to the venue, reaching more than 2,500 by 7pm local time, Barcelona police said. The Plaza de Catalunya lies very close to Las Ramblas, where the devastating terror attack took place earlier this week.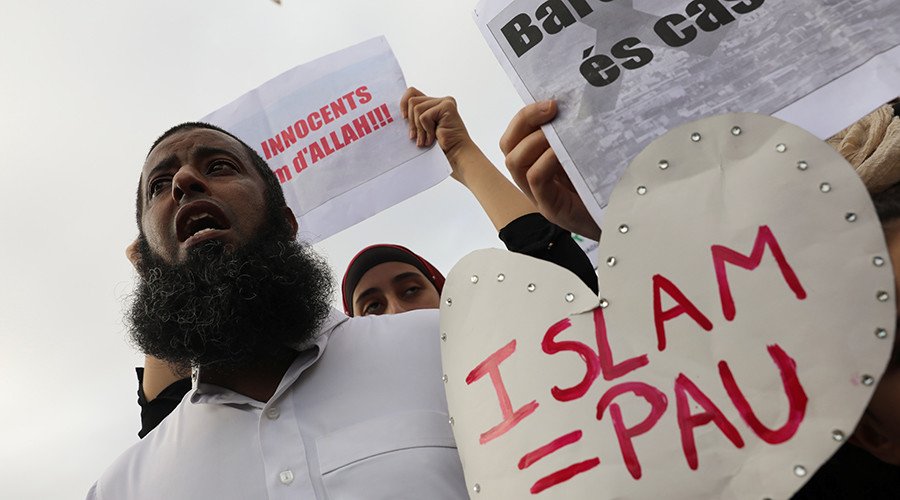 As people amassed in the square, representatives of three Islamic communities delivered a statement in Catalan, Spanish and Arabic, saying local Muslims rejected violence and offered support to those injured in the attack.
READ MORE: Scuffles in Barcelona between far-right & counter-protesters following terrorist attack (VIDEO)
Improvised placards reading "We are also victims," "Terrorism has no religion," "We are all Barcelona, not terrorism," were held by the crowd.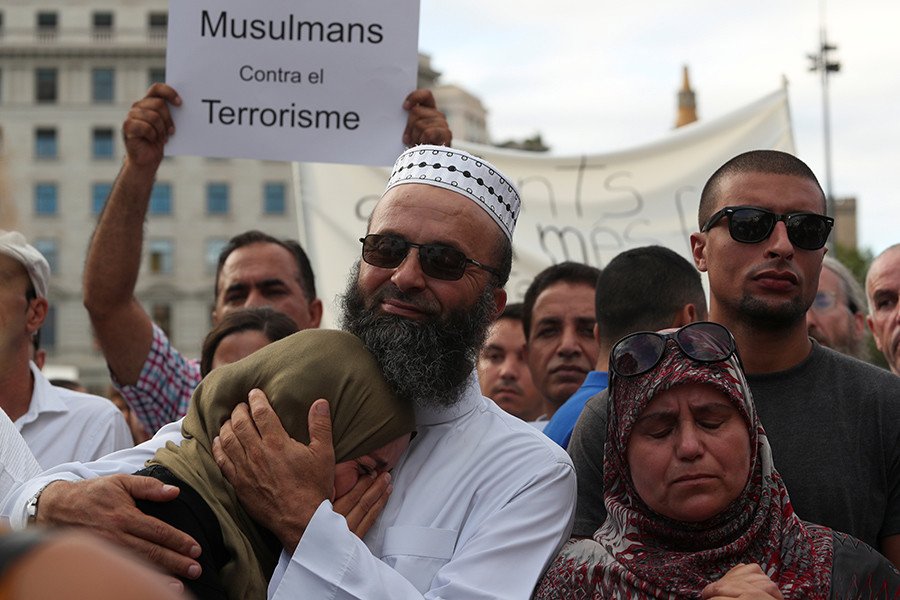 People then moved ahead, raising a large green banner that read: "We are Muslims, not terrorists."
Notably, the demonstration has been attended by some local politicians. Catalan parliament president Carme Forcadell, the Secretary for External and Institutional Relations of the Catalan government, Raul Romeva, and the first deputy mayor of Barcelona, Gerardo Pisarello, were present at the rally.
Members of all parties represented in the Catalan parliament and Barcelona City Council also attended the event, El Pais wrote.
The terror attack in Barcelona, a popular tourist destination, took place on Thursday, when a hired white Fiat van veered off the road and plowed into pedestrians at high speed for several hundred meters. The driver, later identified as a 22-year-old Moroccan national by the name of Younes Abouyaaqoub, killed 14 people and injured more than 100.
Abouyaaqoub managed to escape the scene on foot, triggering a massive manhunt in Spain and beyond. On Monday, Spanish police confirmed that the suspect was gunned down at a gas station in Subirats, just outside Barcelona.
According to the authorities, all 12 members of the terrorist cell believed to have carried out the attack are either dead or in custody. Catalan police chief Josep Lluis Trapero told reporters on Monday: "Today the 12 names that we have always referred to are in the hands of the justice system, or sadly, as a result of their actions, have been killed."
You can share this story on social media: